Better Call Saul May Put Us In The Courtroom Before End Of 2014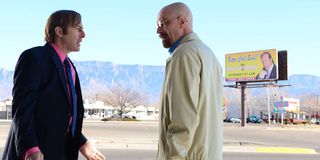 It's December, which means another month has wedged itself between us and the finale of Breaking Bad. Normally a thought rife with sadness, the separation from the show no one in the world could stop talking about has actually given the series creator Vince Gilligan, and soon-to-be showrunner Peter Gould time to talk a bit more in depth about their next venture: Better Call Saul. The highly-anticipated comedy spinoff series is all fans of the AMC series can talk about these days, and with good reason. Gilligan, Gould, and Saul himself (Bob Odenkirk) have all speculated on the show's future, leaving us with a muddled picture of what the series could be. But now that the men have some distance, there's heaps to say about its potential future, which is slated to appear on our small screens before the end of 2014. Rejoice: it's all good!
In a recent interview with Yahoo! TV, Gould explained, "There's no date that's definite, but we're working on it." However Gilligan proved to be a bit more clear-eyed at a screening of the Breaking Bad documentary, stating that it would premiere "before next year is done."
Saul Goodman himself echoed Gilligan: "We're very excited about it and they're getting started on the effort and I guess, hopefully, before next year is done it'll be on the air. "
But what fans may be most excited to hear is that we'll see Goodman like never before: in a courtroom. Gould admitted to sitting in on a few courtroom sessions for "a little bit of research." Surely there's comedy to be found there, right? Goodman was notorious for loathing courtrooms and doing anything in his power to keep himself and his clients out of them, if for nothing more than the juxtaposition of judges' robes and Goodman's choicest wardrobe moments.
"I'm just excited to put the hairpieces on and the gold socks," quipped Odenkirk, before warning folks of his future wardrobe woes, "Please, everybody, don't buy gold socks. We're going to need a couple pairs."
Gold socks and good advice? That's what little Saul Goodmans are made of, it seems."That's part of the paradox of Saul Goodman and one of the things that made him fun, even right back in that first episode," explained Gould. "He looks like a clown. … He dresses in a ridiculous way, he's got billboards, he's got ridiculous ads, but he is a shrewd customer."
And it seems that irreverence is exactly where the show was born — or at least the absurdity of its potential. "The idea of a Saul Goodman TV show, I think, started off not quite as a joke, but as a thought experiment. It grew in reality as time went by. … I think we started realizing that this was a character, and Bob was certainly a guy, who could carry a TV show."
Because ultimately, what makes Saul such a riveting character is that beyond the eccentric exterior, he's actually a good lawyer. "If you listen, most of his advice to Walt over the years in the show was really good advice. If Walt had listened to Saul a little bit more, I think the show would have gone very differently."
In the end, speculation is all we have to go on, but it's safe to assume that it will be different from the fast times of meth kingpinning. "I think we're going to have something that's pretty unique. I don't think it's going to be exactly what people are expecting, let's put it that way," explained Gould. And that, of course, is a very, very good thing, man.
Your Daily Blend of Entertainment News