Better Off Ted Unaired Episodes Have Arrived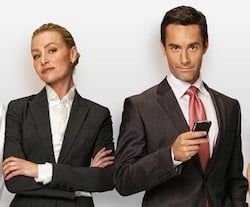 For those of us still reeling from the premature cancelation of the ABC situation comedy, Better Off Ted, and the super annoying preemption of its final episodes due to the NBA finals, have no fear! The final two episodes starring your favorite Veridian Dynamics employees – "It's My Party and I'll Lie if I Want To" and "Swag the Dog" - are now available online.
According to Entertainment Weekly, the final two episodes are available for download on iTunes and Amazon's video on demand. You can also stream the episodes via Netflix if you're a subscriber.
It doesn't look like these final episodes will air anytime soon in the US, so if you can't wait for the DVD release, jump on this now.
Your Daily Blend of Entertainment News