The Big Bang Theory Gets Crazy-Huge 3 Season Renewal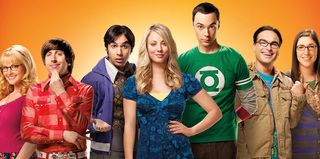 Not to do the obvious thing here, but holy fucking bazinga, you guys: CBS has given a not one, not even two, but THREE season renewal order for its mind-bogglingly popular series The Big Bang Theory. That's a lot of seasons, you guys. More than most TV shows get in their lifetime, let alone coming off of an already impressive seventh.
Ensuring continued ratings dominance — at least if the series continues as its been going — the pick-up of Chuck Lorre's most successful TV comedy constitutes the first time that a series has been renewed for three seasons in scripted network television history. That's right, The Big Bang Theory is making history, America. This is a historical moment: drink it all in if you're into that sort of thing.
With the deal in place, CBS has ensured that The Big Bang Theory will not only stay on air through 2017, but that it will become one of the longest running live-action comedies in the history of broadcast television. So make that two historical aspects of BBT's run. (Can you even handle it? Can you? Seriously I'm wondering because I'm not sure I can.)
This is, of course, likely because the series is a monster not only during its premiere broadcasts, which regularly hovered around the 23 million mark this year, but also in syndication, where the networks make their big bucks. So really, it's a bit of a no-brainer as to the renewal, but to do it for three seasons is, well, pretty intense, especially for a broadcast network (last year cable network FX renewed its Charlie Sheen-fronted series Anger Management for 90 episodes, planning 45-episode seasons, which, oooooof).
In fact, the series, in its seventh season, has seen continued rating increases. This year it's up 4% from its sixth season. Is there no end in sight for the series' continued total domination? Are we going to have to accept the fact that Jim Parsons, the series' star and recent Saturday Night Live host, is going to just keep winning all the Emmy Awards for comedic acting for the foreseeable future?
"Comedy is a big part of our schedule, and The Big Bang Theory is the biggest comedy force on television," said CBS Entertainment chairman Nina Tassler in a statement. "This multi-year deal further strengthens our network's position for future seasons and marks another chapter in the great partnership CBS enjoys with Warner Bros. Television for delivering audiences the best in comedy. We're proud to work with and showcase the incredible talents of Chuck Lorre, Steve Molaro and this amazing cast every week," she continued.
So there you have it, folks. Expect many, many more science/nerd/geek jokes in your future. Bazinga?
Your Daily Blend of Entertainment News
Thank you for signing up to CinemaBlend. You will receive a verification email shortly.
There was a problem. Please refresh the page and try again.