Charlie Sheen's Anger Management Close To 90-Episode Renewal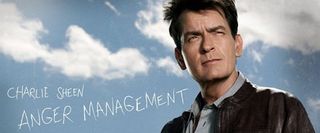 The Charlie Sheen-starring Anger Management may still be an unavoidable sign of the decline of civilization, or even a harbinger of complete societal doom, but it's still-- sigh-- a hit. The comedy series that debuted in late June for a 10-episode run has been bringing in strong numbers, including 5.47 million viewers for its premiere, and apparently that's strong enough to fulfill a deal struck between FX and production company Lionsgate. Though no official announcement has been made, Lionsgate Television Group President Kevin Beggs said in a conference call that new episodes should be set to return in 2013, and Lionsgate CEO Jon Feltheimer promised a "significantly larger amount" of episodes coming in the future.
What all those hints likely mean, according to The Hollywood Reporter, is that FX is getting ready to pull the trigger on a 90-episode reorder, a number they guaranteed to Lionsgate when they first picked up the show. It sounds a little crazy to have 10 successful episodes of a show, then assume that another 90 are a good idea, but Charlie Sheen's fame has made Anger Management a bigger than average hit, and as he proved on season after season of Two and a Half Men, people will tune into even the most mediocre show if Sheen is starring on it.
According to Bloomberg News, Anger Management is averaging 3.4 million viewers per episode, and though FX and Lionsgate have not disclosed the ratings required to spark that 90-episode reorder, 3.4 million must be clearly over it. The official reorder won't be made until Anger Management has aired its final three episodes, but is Lionsgate is leaking this information to the press this far in advance, they're obviously pretty confident about it.
Barring some kind of meltdown like the one that got Sheen fired from Two and a Half Men in the first place, we're likely to have Sheen on our TVs for a long, long time to come. I hope you're happy with yourself, America.
Your Daily Blend of Entertainment News
Staff Writer at CinemaBlend