Big Ten Network Sets Deal with Time Warner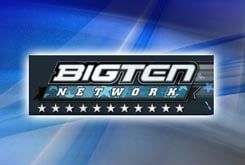 Good news for you collegiate sports fans in the Midwest! Time Warner and the Big Ten Network have reached a deal for the network to appear on the lineup in eight states. Hollywood Reporter broke the news earlier today, and believe me, the shouts of joy are already resounding through the countryside.
"The agreement in principle, announced Monday, follows the year-old channel's distribution deal with Comcast that was inked in June. It will ensure that TWC's customers in those states will have access to Saturday's Big Ten college football season openers and all future Big Ten programming on an expanded basic level of service, the network said. The deal gives Big Ten about 3 million more homes, mostly in Ohio and Wisconsin, but also some located in Michigan, Indiana, Illinois and Pennsylvania.
Seriously, you have no idea how big this is. The anger over not being able to see the majority of Big Ten games has had real and lasting effects on cable giants like Time Warner, at least in this area. Personally, my husband and I lucked out 'cause we've got the "Dish". Until two years ago, we only had "farmer vision" (aka bunny ears sitting on top of the tv), and when I got a gig recapping a couple of shows on TLC and Style, we had to get cable. Because we live in BFE, there is no cable for us, so we had to hook up with Dish Network. Here comes the part that made us the envy of all of our friends. As you may or may not know, the Big Ten Network has always been on Dish Network, so we didn't miss any of the action last year. We also became the local hangout every Saturday.
And to illustrate my point further, here is another quote from Hollywood Reporter, "The deal follows contentious talks between the network and cable operator. Ohio State fans in particular had called for a resolution before the Buckeyes' opener Saturday against Youngstown State, a game that will air exclusively on the Big Ten Network."
Your Daily Blend of Entertainment News
Thank you for signing up to CinemaBlend. You will receive a verification email shortly.
There was a problem. Please refresh the page and try again.