The Biggest Loser: Battle of the Ages Watch - Season Finale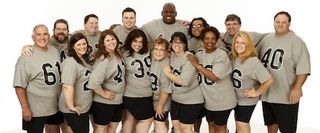 Three months ago, fifteen hopelessly overweight people came to the Ranch, hoping to reclaim their lives and to overcome their personal issues that caused them to fall victim to obesity. They were split into three groups of five: one young (under 30), one old (over 50) and one middle-aged. Bob Harper was joined by two new trainers: Dolvett Quince, who has worked with many celebrities, and Anna Kournikova, who pretty much is a celebrity, not just because she was a pretty good tennis player in her day, but because she's… well, pretty, to say the least.
Early on, it was Bob's (middle-aged) Black Team that took control, led by intense strategist John, who managed to drop at least nine pounds in nine straight weeks. After seven weeks, four of the original five Black Team members were still in the game. But then, the teams were reconstituted, and from that point, it was game on. There were some tense moments, mostly centered around John, who, despite some REALLY close calls, never once found himself up for elimination.
John enters the Finals the clear favorite to win, along with two other men (making it an all-male final for the first time in the show's history) that became fan favorites: ex-NFL lineman Antone, who has transformed from a blubbering, tearful mess back into the top-notch athlete he once was, and Ramon, the happy-go-lucky tattoo artist who not only managed to find love on the Ranch, but took first place in a marathon last week that won him a spot back in the Final Three.
Tonight, the twelfth season comes to an end. Twelve eliminated contestants will vie for the $100,000 at-home prize, and the other three will go heads-up for the $250,000 grand prize. Which is a lot, but when you think about it, it's not the most important thing, which is the fact that, with only one exception, every single person that started this journey will finish at least 75 pounds lighter than when he/she started, which is a testament to the viability of the regimen that The Biggest Loser advocates as well as a reminder why this show needs to be on television. America isn't one of the fattest countries in the world for nothing!
Since nearly all of the finale was shown live, and all that really matters are the final results, I'll try to keep my comments about the individual achievements to a minimum. After a live performance by Train (who sings the show's new theme song) and a whirlwind montage of the season, Alison brings out the three trainers, the ones who help shape these fifteen individuals into the lean machines they are today. And for the show's sake, I hope all three are back next season. There have been six different trainers over the last two seasons alone (with Bob being the only returnee), and if the show is going to keep going strong, there needs to be some consistency. Ahem.
In the past, the format has been that all the contestants would first come out on stage in dress clothes, and then, after a commercial break, don their colored workout togs before they took the scale for the final time. However, that was not the case this time… Alison reveals that all of the contestants were weighed just prior to taping. The twelve eliminated contestants would then be brought out in groups of four, and only the top "loser" from each group would physically take the scale this time.
The first group to take the stage includes: Becky and Vinny, the last two contestants to be eliminated; Jessica, the young San Francisco girl who became Ramon's soul mate while at The Ranch; and Johnny, the oldest contestant this season (at 65) who was eliminated way back in Week Two. Here are their results:
Johnny – Started: 328 pounds. Finished: 231 pounds. Lost: 97 pounds (-29.57%).
Becky – Started: 238 pounds. Finished: 150 pounds. Lost: 88 pounds (-36.97%).
Jessica – Started: 254 pounds. Finished: 174 pounds. Lost: 80 pounds (-31.50%).
Vinny – unknown (Top 3).
I'm not at all surprised Vinny is in the Top Three from the eliminated group. He got the full benefit of his time on the Ranch, and seemed to possess not only more than enough motivation to keep going once he got home but also a support system that wouldn't let him regress. As for Becky, I'm so darn proud of her. She finishes the season the lightest of all the contestants and is an inspiration to moms and fifty-plus-somethings everywhere. And Jessica? Well, I'll just say that Ramon is one lucky dude. She is SMOKING hot right now.
The next group out consists of Courtney, Bonnie, Sunny and Patrick. Patrick, if you remember, volunteered to go home in Week 3, and he looks a hundred pounds lighter since he left. Bonnie, the monument to perseverance, appears to be chipper after undergoing knee surgery. Haven't seen Courtney since Week 5, but she looks terrific. And Sunny? Wow. Just… wow. Here are their results:
Courtney – Started: 270 pounds. Finished: 183 pounds. Lost: 87 pounds (-32.22%).
Bonnie – Started: 254 pounds. Finished: 177 pounds. Lost: 77 pounds (-30.31%).
Sunny – Started: 277 pounds. Finished: 171 pounds. Lost: 106 pounds (-38.27%).
Patrick – unknown (Top 3).
Before the reveal, Alison announced that Sunny and Patrick were less than 1% apart, which tells me right away that he will not be winning the at-home prize. (If he were #1 or #2, then Sunny would have been Top 3 too, logically.) Even so, I'm very proud of all four individuals. They look like completely different people, and they act like it, too.
The last quartet to take the stage are senior contestants Debbie and Mike (who both went out early), and former Black Team members Jennifer and Joe. Debbie looks like she hasn't changed all that much, but the change in appearance for the other three is astounding. Jennifer, who started out as the only plus-300 woman, looks skinny now, and I'm not just saying that. Here are their results:
Debbie – Started: 239 pounds. Finished: 206 pounds. Lost: 33 pounds (-13.81%).
Mike – Started: 309 pounds. Finished: 223 pounds. Lost: 86 pounds (-27.83%).
Joe – Started: 348 pounds. Finished: 215 pounds. Lost: 133 pounds (-38.22%).
Jennifer – unknown (Top 3).
Thank God Jennifer made it into the Top 3, because otherwise, that would have meant a all-male Top 3 vying for both the at-home AND grand prizes. And it's sad that Debbie couldn't have turned on the jets at home. One could make the excuse that her age or her very early exit may have been contributing factors, but I hope that her current weight is not something she's content with. Her BMI (Body Mass Index), which was the second-lowest of all fifteen contestants at the start of the season, is now the highest of the bunch. Not good enough, Debbie.
After another commercial break, it's time at last for the vaunted Biggest Loser scale to make its appearance, dramatically enhaloed in blue light. Off to the side stand Patrick (wearing Red), Jennifer (wearing Black) and Vinny (also wearing Black), ready to see who will take home the $100,000 at-home prize. Here are those results:
Patrick – Started: 387 pounds. Finished: 236 pounds. Lost: 151 pounds (-39.02%).
Vinny – Started: 426 pounds. Finished: 242 pounds. Lost: 184 pounds (-43.19%).
Jennifer – Started: 330 pounds. Finished: 185 pounds. Lost: 145 pounds (-43.94%).
Wow, that's close! A mere four pounds more, and Vinny could have gotten the extra-large diamond wedding ring for his fiancee Lori. But then, he won plenty of cash on the Ranch, so I can't feel too bad. Plus, he's traded in his enormous gut for some enormous "guns", and that looks so much better on a stage. I'm happy for Jennifer, who had to fight through a nasty leg injury the whole season. Let's hope she doesn't spend it on trying to woo Bob to the altar.
At long last, it's time to get a look at the Final Three. I love how, when they take the stage, we seem them standing next to a hologram of their Week One selves, and when Ramon comes out, they turn to each other and make funny faces, which is awesome. He should be doing advertising for toothpaste, his smile is so big. He announces that he and Jessica are very happy, and no, they're not setting a date yet! Alison coyishly points out that The Biggest Loser has seen the birth of more successful relationships and marriages than The Bachelor ever did. God, I hope THAT'S true. Ramon then announces that he has helped his father Ed lose 85 pounds, and now looks forward to helping his mother get healthy as well.
Antone is next, and I remember he started this journey not only because he woke up on a daily basis wondering if that would be his last day on this Earth, but because he had seen so many of his peers, retired NFL players that went down the same road he did and died far too early. I do not know what his weight was when he was in playing shape (I would imagine it was in the 300-350 pound range, which is normal for linemen), but I guarantee he is WELL under that now. He looks like a freaking wide receiver, he's so trim. He is literally bursting with pride, as are the faces of his four adorable children in the audience.
Last out is John, who took the lead in Week One by losing 37 pounds and never relinquished first place after that. Very few contestants in the show's history were as driven as John, and his single-minded purpose ruffled more than a few feathers among his fellow contestants, the trainers and, I would imagine, most of America. If he had ever been unfortunate enough to be up for elimination, he doubtless would have been. Looking at him now, the fire that was in his eyes on Week One is now a raging inferno, and I have no doubt that this transformation is permanent.
Before the final weigh-in, Alison gives us a sneak preview of next season. Or, more specifically, one of the contestants participating next season, and it's none other than Santa Claus himself. Well, probably not the actual Kris Kringle, but the white-bearded man they show is a dead ringer. Plus, he seems to enjoy the monicker, and it also seems that everyone will be referring to him as "Santa", so that ought to be fun. The thirteenth season starts January 3rd. And I'm not entirely sure, but it looks like Anna will not be part of the next season. Hmm.
At long last, the three finalists mount the scale for the final time. Here are Season Twelve's final results:
Ramon – Started: 355 pounds. Finished: 201 pounds. Lost: 154 pounds (-43.38%).
Antone – Started: 447 pounds. Finished: 245 pounds. Lost: 202 pounds (-45.19%).
John – Started: 445 pounds. Finished: 225 pounds. Lost: 220 pounds (-49.44%).
So there you have it. John goes box to wire, setting or tying the following records: 1) fastest contestant to lose 100 pounds, which he did in Week Six, tying Moses from last season, 2) greatest percentage of weight lost on the Ranch (40.00%), 3) first player to lose at least nine pounds in nine straight weeks, 4) only player in history to never face elimination, and 5) only player to be in first place all the way from beginning to end.
Certainly John's victory was not a surprise, and though he may not be the most personable guy ever to win, I can't deny that he earned every penny. And given that he and I live about 45 minutes apart geographically, I probably shouldn't say anything bad about him, since he could probably kick my ass from now till next Tuesday.
Final stats: the fifteen contestants managed to drop a grand total of 1,843 pounds in seven months, or an average of 122.9 pounds apiece. You just can't argue with those results.
And that's it. Thanks to all of you for continuing to read my recaps. I'll be back in three weeks when it all starts up again. Happy holidays!
Your Daily Blend of Entertainment News
Thank you for signing up to CinemaBlend. You will receive a verification email shortly.
There was a problem. Please refresh the page and try again.