The Biggest Loser: Battle of the Ages Watch - Week 5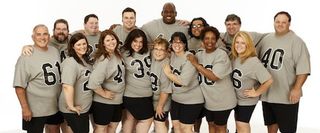 Last week, though the margin of victory was very small, the Black Team continued its roll by coming out on top for an unprecedented fourth time in as many weeks. So Bob's bunch remains five-strong, while Anna K's unfortunate Blue Team was sent to the Elimination Table for the third time. In the end, it was Coach Mike that was sent home, leaving only Bonnie and Becky to toe the line for the over-50 crowd.
This week's challenges: The episode started with a challenge that included one big perk, one big reward, and one big pitfall. Well, it wasn't so much a challenge as a lucky roll of the dice… or, to be more accurate, one round of pachinko (picture the "Plinko" game from The Price is Right). Each player chose one possible slot for the large disk to fall into, and the player whose slot received the disk would... 1) get to go home for the week, 2) have their trainer go with them, 3) receive immunity from elimination, and 4) (here's the kicker) whose weight would be the only one the counts for their team at the weigh-in. And since the winner of this "challenge" was telegraphed in last week's previews, I'll just remind you that Sunny won, and leave it at that. It's not a fate Bob would have chosen, that's for sure.
There was also an actual team challenge. Each team would fill 20-oz. glasses with orange soda, and then race through an obstacle course of sorts, pouring whatever was left into a tube with a marked line on it. (Because the Blue Team had half the membership of the other two teams, their line was only half as high.) The winning team would win, for each member, the chance to send one friend or loved one to the Fitness Ridge Resort for two weeks. The course, which consisted of dozens of tightly-woven bungee cords, was tough to navigate, and it required a lot of trips through the course to fill the tube. There was a scary moment when Bonnie took a tumble, but she bounced back up almost as quickly. And for the first time this season, a challenge is not won by the Black Team, as they were edged out by a narrow margin by the gung-ho Red Team. Good for them.
I don't know what got into Bob this week, but the show started out with him giving not one, but two tirades to his team: first, to Sunny, for being happy about going home, during which he told her that if he had his way, she'd be spending the entire week with him and not see her family at all (harsh, Bob); and second, to John, who got all weepy-eyed at her departure, but Bob saw through that in two seconds, confronting him that for the first time since the game started, his fate is in someone else's hands. I don't think I've ever seen Gentle Bob be so iron-fisted in his demeanor.
This week's drama/revelations/breakthroughs: Dolvett worked hard on Vinny this week, who has been pulling good but not stellar numbers consistently. Vinny revealed that being a musician and entertainer, he always had the luxury of concentrating on the things he was good at and ignoring the rest. Being in an environment like the Ranch and the show forces him to not take the easy way out any more, and that gives him strength.
Thankfully, Bob mellowed somewhat when he spent the week with Sunny's family. Unlike many TBL contestants, she does not come from a family wracked with obesity. Many of her family are fit and healthy, and are fully prepared to support Sunny in that endeavor. This impressed Bob, and myself. The family dynamic seemed a little reluctant to collectively give up their beloved barbecue, but it has to be done. The highlight of Bob's trip to Frisco was when Sunny goaded him into riding a mechanical bull. She even made him wear a cowboy hat, and it looks exactly as out of place on California Bob's head as you might think. It's hysterical moments like these that I live for. And you can bet your metal-toed boots he'll get her back for that!
One other thing that reared its head, strategy-wise, was the fact that while Antone, Joe and Sunny seem to have bonded, John prefers doing his own thing, as does Jennifer (largely because her bad knees preclude her from the types of workouts that they've been doing, but also because it's clear that she's got tons of emotional baggage that she hasn't yet worked through). It's fairly clear that when the Black Team finally goes under the gun, it will be one of them sent home. My money is on John, not just because of his untoward comments a few weeks ago but because he's the biggest threat to win right now.
And now, this week's numbers:
Black Team (Bob) Sunny - lost 14 pounds (-50 total), -5.81%, now stands at 227.
The rest of the Black Team went as follows:
John - lost 12 pounds (-91 total), -3.28%, now stands at 354.
Jennifer - lost 8 pounds (-56 total), -2.84%, now stands at 274.
Joe - lost 7 pounds (-54 total), -2.33%, now stands at 294.
Antone - lost 4 pounds (-70 total), -1.04%, now stands at 377.
Blue Team (Anna) Becky - lost 8 pounds (-34 total), -3.77%, now stands at 204.
Bonnie - lost 4 pounds (-25 total), -1.72%, now stands at 233.
Total - 12 pounds lost (-2.70%).
Red Team (Dolvett)
Jessica - lost 6 pounds (-41 total), -2.74%, now stands at 213.
Vinny - lost 10 pounds (-54 total), -2.62%, now stands at 372.
Courtney - lost 6 pounds (-39 total), -2.46%, now stands at 238.
Ramon - lost 7 pounds (-51 total), -2.25%, now stands at 304.
Total - 29 pounds lost (-2.51%).
My God. The Black Team is officially a juggernaut. It's practically a dynasty. This streak will eventually end, but wow, what an achievement. Bob should ask for a raise.
Kudos. To Sunny, of course, for losing more than anyone else despite being one of the lighter people on the Ranch; to John, who, apart from being one pound shy of double digits last week, has lost at least ten pounds every week so far, and is nine pounds away from losing 100 pounds in six weeks; and to Joe, for busting through the 300-pound barrier, hopefully never to return. It's interesting to note that the four Black Team members who DIDN'T go home could have taken the easy way out and sandbagged it this week, since their weight loss didn't factor into the equation. Had it been all five of them, they still would have won, easily. You have to hand it to them.
Elimination. With Jessica safe, it had to be either Ramon, Vinny or Courtney to go home. No one stepped forward to take the bullet this time, with each one pleading to the others to keep them around. If there was any other strategy involved, it was not shown, but the fact that Courtney received all three votes from her teammates tells me that something was probably going on that we may never know. The reason given was that the two men were still too unhealthy to go it alone, which is true, but I don't buy that that's the only reason. Whatever, back to Arizona she goes.
Standings. John remains well in front, with a full -20.45% lost. Behind him are his teammates Sunny (-18.05%) and Jennifer (-16.97%). Behind them are Jessica (-16.14%), Antone (-15.66%) and Joe (-15.52%). Yes, the Black Team comprises five of the top six players so far. Jeez.
Update. In the weeks since her departure, Courtney has lost another 26 pounds, and looks much more trim at 205, though she still has a ways to go. There was a really nice moment with her sister (with whom she applied to be on the show several times) when Courtney told her about the Fitness Ridge prize she won, a gift she intends to bestow on her sister. If her sister is truly the selfless person Courtney makes her out to be, she deserves it.
Next week: In a Halloween-themed show, the teams are given an ultimatum: lose 100 pounds collectively, and everyone can stay for one more week. Will team lines really disappear, or will tempers flare on the Black Team? And how about this… Ramon and Jessica are apparently gearing up for Valentines' Day, if you get my drift!
Your Daily Blend of Entertainment News
Thank you for signing up to CinemaBlend. You will receive a verification email shortly.
There was a problem. Please refresh the page and try again.