The Biggest Loser: Battle of the Ages Watch - Week 6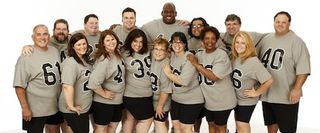 Last week, the Black Team's Sunny won a luck-of-the-draw challenge that allowed her to go home for a week… which would normally be a bad thing, losing-weight-wise, but the good news is, she was allowed to bring Bob with her. Carrying the fate of her entire team on her shoulders, Sunny proceeded to lose an amazing 14 pounds and secure victory for the Black Team for the fifth straight week.
This week's challenges: Since Halloween is this week, this episode decided to spookify everything… which makes me laugh, since they probably recorded this episode in early summer. Alison, dressed up like the Bride of Frankenstein, gives the contestants some scary facts about Halloween candy, not the least of which is the fact that Americans on average each 24 pounds of candy annually. Yikes. Anyway, the challenge was a temptation: for each pound of candy the group consumed, they would get a one-pound advantage at the weigh-in (with a maximum of ten pounds awarded). Alison also announces that for this week, the teams will be competing with each other instead of against each other, giving them the ultimatum that if they could collectively lose 100 pounds, no one would be going home. Hmm… ten pounds each? In Week Six? Not a chance in hell.
In retrospect, I can't help but wonder if this little wrinkle was thrown in to put a dent in the Black Machine. If the group failed to lose 100 pounds, only the one person who lost the highest percentage would be immune, and everyone would vote. It's impossible to believe that the Red and Blue Teams would vote for anyone but one of the Black Team.
There was also a challenge, continuing the Halloween theme, that involved the healthiest food there is that is associated with the holiday: apples. The contestants had to scour a maze of withered corn-plants in search of apples, negotiate their way to the exit, and dump the apples into a huge container. The object: gather 150 pounds in the allotted time, and they would earn themselves a five-pound advantage at the weigh-in, and they could even earn a ten-pound advantage with 200 pounds. Admirably, they worked as a team and did just that. Good for them.
This week's drama/revelations/breakthroughs: all three trainers had the opportunity to work with contestants that they hadn't previously, just to mix it up. Bob enjoyed pushing Vinny into doing wind sprints on the treadmill, and I was surprised that he was able to sustain a 9.5 speed for even a few seconds! (Bob brings that out in people, doesn't he?) Dolvett had a sit-down with John, who rather matter-of-factly related some of the tragedies that have befallen him and his wife, like when they lost a ton of money attempting to adopt a third child from eastern Europe (they already have two adopted children), and as a result, nearly lost his house. In addition to that, John's father passed recently. Dolvett revealed that he, too, was adopted. Hmm, didn't know that.
We got a sneak preview last week that Ramon and Jessica apparently now have a serious thing for each other. They've lived under the same roof and bonded quite healthily under the strangest of circumstances, but they really are a cute couple. And they've already reached the "kissing" stage, which makes me root for them even more. They certainly wouldn't be the first couple to fall in love on this show. They even shared a really sweet picnic/sunset together. Awww.
If you were wondering if the trainers decided to dress up in costumery this week, the answer is yes. Given that this was also "all for one" week, they strode into the kitchen dressed to the nines as the Three Musketeers. I have no idea if this was a planned tie-in to the latest film adaptation of the classic novel or not, but let's hope it doesn't work. If there is any movie this year that you should all NOT go see, it's The Three Musketeers. It was a complete turd, trust me on that.
There was a really poignant exchange between John and Vinny right before the weigh-in. Since the season started, John has been under the impression that everyone sees him as a threat, and has pushed himself so that he won't be up for elimination at any point. Vinny tells him that it's better to trust in the people around him and just to be himself, so that people wouldn't want to vote him off. Vinny then opened up to Bob, telling him about his abuse and neglect at the hands of his stepfather, which caused him to gain weight as a mechanism to avoid being hurt. Deep stuff.
Jennifer, on the other hand, had a really down week. It's clear that she prefers Bob to the other trainers, and thus, when Anna and Dolvett tried to work her out, all she could give was half-assed cooperation, a fact that did not go unnoticed by the other contestants.
And now, this week's numbers:
John - lost 10 pounds (-101 total), -2.82%, now stands at 344.
Joe - lost 8 pounds (-62 total), -2.72%, now stands at 286.
Antone - lost 8 pounds (-78 total), -2.12%, now stands at 369.
Jessica - lost 4 pounds (-45 total), -1.88%, now stands at 209.
Jennifer - lost 4 pounds (-60 total), -1.46%, now stands at 270.
Vinny - lost 5 pounds (-59 total), -1.34%, now stands at 367.
Ramon - lost 2 pounds (-53 total), -0.66%, now stands at 302.
Becky - lost 1 pound (-35 total), -0.49%, now stands at 203.
Bonnie - lost 1 pounds (-26 total), -0.43%, now stands at 232.
Sunny - gained 5 pounds (-45 total), +2.20%, now stands at 232.
Total – 38 pounds lost.
Wow. These results suck. And believe me, they killed it in their workouts from start to finish. They were so determined to lose 90 pounds, and to not even lose 40… well, it's disheartening.
Kudos. Not many, since numbers were down across the board. To John, of course, for reasons explained in the above paragraph, as well as hitting the 100-pounds-lost mark in Week Six, something only done once previously (last season's Moses). It's also perhaps worth noting that if the teams were competing as teams, the Black Team would have won AGAIN, even with Sunny's weight gain. But that was not the case, and for the first time, everyone on the Black Team (except John) was vulnerable.
Elimination. Jennifer's continued non-participation has become a major bone of contention, so much so that even her own teammates (save John) decided that it was time for her to go. She left with a smile, however, stating that she was able to drop 60 pounds in six weeks despite nagging knee injuries, so she's quite sure she can continue to lose weight at home.
Standings. John increased his lead in a big way, having now lost 22.70%. His remaining teammates now comprise the entire top four: Joe (-17.82%), Antone (-17.45%) and Sunny (-16.25%).
Update. Since leaving The Ranch, Jennifer has lost an additional 42 pounds, making her total weight loss 102 pounds since the season started. Now a much-healthier 228 pounds, she has completely recovered from her injuries and now runs twenty miles every weekend, right in the shadow of the Golden Gate. She also came to her favorite dress shop to collect on a bet she made with the owner: that if Jennifer could lose 100 pounds, she would be given a pretty green dress free of charge. She won that bet, and is now rocking the dress.
Next week: the battle of the ages ends, as the teams are randomly shuffled up. Can the lovebirds survive being on separate teams? Come back in seven.
Your Daily Blend of Entertainment News
Thank you for signing up to CinemaBlend. You will receive a verification email shortly.
There was a problem. Please refresh the page and try again.