Bonnie Hunt To Star In Ben Stiller Produced ABC Comedy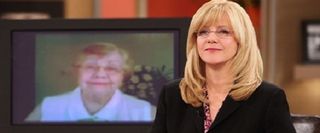 Ben Stiller and Bonnie Hunt are working together on a new comedy for ABC. Hunt will be both writing and starring for the half-hour ensemble comedy, while Stiller's company Red Hour Television will be producing. The project is working under the gimmicky title CompliKATEd, and you probably could have guessed without being told that Hunt will play a character named Kate.
Hunt's writing partner Don Lake will be collaborating on the project; he was co-creator and executive producer with her on the series Life With Bonnie, which ran for two seasons on ABC. Since then the two tried again with the 2006 pilot Let Go, which didn't make it to series. Hunt also gave her name to the talk show The Bonnie Hunt Show, which again lasted only two seasons, and to another series back in 1995 simply called Bonnie, which lasted through just one season. Perhaps going with the name Kate this time is a good idea.
Details on the project are few; Deadline says it's about a "confidently insecure" woman whose life is, again as might have been guessed from the title, complicated. Stiller, Debbie Liebling, and Stuart Cornfield will all be producing for Red Door Television along with Bob & Alice Prods, Bonnie Hunt's own company. Red Door is in it's first development season and doing pretty well so far with two other projects in the works, Please Knock which is based on Stiller's life and The Notorious Mollie Flowers. ABC has given complicated a script commitment; hopefully it will fare better than Hunt's previous outings.
Your Daily Blend of Entertainment News
Thank you for signing up to CinemaBlend. You will receive a verification email shortly.
There was a problem. Please refresh the page and try again.