Breaking Bad Season 4 Blu-Ray Set Promises A Slew Of Extras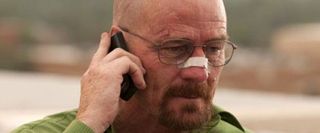 Despite Breaking Bad's Season 4 ratings moving considerably ahead of the numbers for Season 3 – we're talking nearly a quarter higher – Season 5 of the hit AMC show is expected to be its last. So, if you enjoy watching the banter between Walter and Jesse, the best way to do so may be to perpetually live it out over and over again on Blu-Ray or DVD.
Breaking Bad: The Complete 4th Season won't street until June 5th, but now Sony Pictures Home Entertainment has finally released the bonus feature list for the Season 4 set, it is looking like the delay – and the list price – is well worth the wait. The main extras are the audio commentaries, which were created for each of the episodes and feature creator Vince Gilligan, as well as many of the actors, including Bryan Cranston, Anna Gunn, Aaron Paul, Dean Norris, Betsy Brandt, and more.
Sure, audio commentaries are not really enough to swing an "ouch"-inducing $65.99 Blu-Ray list price, even for a series as well put together as Breaking Bad. Luckily, there's more where those first extras came from. The Complete Season 4 set will come with thirty featurettes, including "Giancarlo Esposito Face Casting, "The Real Family of Breaking Bad," "Inside the Explosive Finale," "The Sets of Breaking Bad," and "A Look At Season 4." Additionally, Gale's Kareoke video, a tour of the Superlab, an "Unanswered Questions" segment, and a "Cast Chemistry" bonus feature will come with the set. Finally, "Better Call Saul: Fatty Fat Fat" and "Better Call Saul: Fighting For You!" will round out the extras on the disc. Sony has not released the cover art for the set, but if the disc as a whole is as stellar as it seems to be, I'm expecting great things from the packaging. Stay tuned for some cover art in the coming weeks.
Update: Here's the full list of included content:
BREAKING BAD: THE COMPLETE FOURTH SEASON episodes include:
Box Cutter
Thirty-Eight Snub
Open House
Bullet Points
Shotgun
Cornered
Problem Dog
Hermanos
Bug
Salud
Crawl Space
End Times
Face Off
Blu-Ray™ & DVD Special Features Include:
Uncensored Episodes
Deleted and Extended Scenes
Cast & Crew Commentaries on All 13 Episodes
Gag Reel
30 Featurettes
"Better Call Saul" Commercials
Karaoke Video Featuring Gale Boetticher
And more!
Exclusive to the Blu-ray:
13 Video Podcasts, with a Total Run Time of More than Two Hours
Your Daily Blend of Entertainment News