Breaking Bad Spinoff Better Call Saul Could Be Anything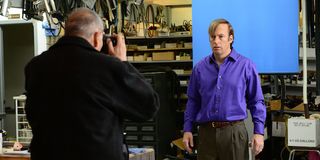 So we're all anticipating the future of AMC's Breaking Bad spinoff Better Call Saul, yes? (Obviously, or else why would you click this article?) Those of us waiting for another taste of the Albuquerque life are doing so with breath so baited we're positively flooded with its hypothetical potential. But any previous notions one might've had about Saul's structure are being called into question at this point because nobody seems to know what the series is going to be.
At least that's the vibe we got from Saul Goodman's real-life doppleganger Bob Odenkirk in a new interview with IGN. Turns out the show's possibilities and potential have made every single thing anyone's thought about the series plausible: it might be a prequel, but it might not! It also might be a sequel. Or also maybe a hybrid of the two. It was speculated be a comedy, but also a drama. Or what about both? Maybe it's a 70/30 split! Or perhaps that's more 30/70? Or maybe we should just call it a black dramedy and call it a day.
Truth is, nobody seems to know yet (which makes sense considering it is a decently long ways off from heading to on-air land), but no one — including Odenkirk — can seem to stop talking about it regardless of how synthesized everything is or isn't thus far.
Odenkirk admitted to having "talked to Vince [Gilligan] and Peter [Gould], who are writing and creating the series … and I've said that a lot of people do want to see what happens to next to Saul."
So that means it'll be a sequel, right? Not so. "I don't know what they're going to do. I know they've talked about prequel, but they've also talked to me about sequel, and they've also talked to me about a mix of prequel and sequel." See, kids? Even with the best minds on the case, sometimes shows take awhile to plot out — regardless of whether the pitch has been bought or sold or not.
Gilligan himself previously spoke about the series' roots in a profile with The Hollywood Reporter, stating that "There's obviously a danger inherent in doing a spinoff, but I just love the character of Saul Goodman so much, and part of me doesn't want to say no to this world."
As for specifics, Gilligan's tune falls less in the comedy spectrum and more in the 'let's get the ol' gang back together!' vein of someone not ready to let go of the past (not that we can blame him, since, ohmygod it's been 38 whole days since "Felina" aired not that we're counting), when he stated "[Co-Creator of Better Call Saul Peter Gould and I are] both one-hour drama guys, so we figured, 'Why not shoot Saul in the same way?' Let's shoot it in Albuquerque, let's get as much of the crew back together as possible, and let's do it the way we did it before so that it will be of a piece with that pre-existing fictional universe that we had so much fun creating."
But that doesn't entirely line up with Odenkirk's thinking, who is adamant that the show creates its own viewpoint. "I said, 'Look man, let us make this fresh for everyone.' So that right away, in the first five minutes, every viewer goes, 'Oh, this isn't Breaking Bad, this is its own thing.' And I think they feel the same exact way. There might be a cameo here or there, but I don't know. We're going to do a new show."
One thing is for certain, though: reports still speculating on the ratio of funny to drama can stop right there, as Odenkirk's revealed the secret recipe, "It's going to be 70% drama and 30% comedy."
So now that that's settled, what's the end result going to be, guys? Get the old band back together or bring on the new? You can't have historic nostalgia and futurism, too. Or maybe you can! Anything's possible at this rate, you guys.
Regardless of the direction the show ends up going in, Odenkirk's taking a very level-headed approach to it all, not letting the history and gravitas behind the Breaking Bad ethos get in the way. "I'm approaching this the way I approached Breaking Bad, which is, 'Vince, you write it and then you hand it to me and I will figure out my part.' And I will not try to own the universe, or tell you what happens, or dictate anything. I will do the job of an actor, which is take the script, study it, think about it, feel it and ask myself, 'Who is this person is and how do I be him?' It's been incredibly freeing to do that." Whatever your method, Odenkirk, as long as you're going to be Saul, we're on board.
Your Daily Blend of Entertainment News
Thank you for signing up to CinemaBlend. You will receive a verification email shortly.
There was a problem. Please refresh the page and try again.