Brickleberry Renewed For Season 2 By Comedy Central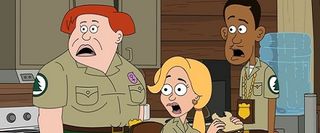 Daniel Tosh's animated series Brickleberry will be back for another season. Comedy Central has given the comedy a longer second season order, 13 episodes, which is 3 more than the first season offered. Not surprisingly, the show has been seeing strong ratings in the young male demographic, holding second place in the male 18-34 group for its time slot.
Brickleberry is about a group of dysfunctional park rangers in a second-rate national park. Along with Tosh, who also executive produces the show, voices include Kaitlin Olson, Tom Kenny, Dave Herman, Jerry Minor, and Roger Black. Tosh provides the voice of Malloy, a grown up but not really more mature version of Yogi Bear, who is spoiled, obnoxious, and vulgar. The characters range from a super hot, blonde ranger recently transferred to the park to an African American ranger who really isn't a big fan of the great outdoors. Brickleberry premiered this fall for 1.7 million viewers and has maintained those numbers throughout the still-airing season. It's certainly helped by the lead-in of Tosh's established series Tosh.0 on Tuesday nights and likely attracts a similar viewership.
The comedy comes from Fox 21, the same production company behind Homeland and Sons of Anarchy, neither of which are shows I would think of in conjunction with a Comedy Central animated series. It's the first such show for the company and given the success it might not be the last. Brickleberry was created by Stankervision's Waco O'Guin and Roger Black, and the pair executive produce along with Tosh.
Brickleberry is set to return for Season 2 in the fall, which makes a bit of a long wait for the return, since there are only a few episodes left to air in the current season. In the meantime, co-creator Roger Black proudly announced that the series' success means he can "pay off my Chevy Cobalt." The American Dream at work, people.
Your Daily Blend of Entertainment News
Thank you for signing up to CinemaBlend. You will receive a verification email shortly.
There was a problem. Please refresh the page and try again.