Britney Spears Leaves X Factor Judges Table After Drag Performance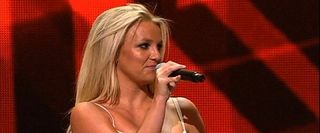 Apparently, Britney Spears has a little trouble watching her songs being performed by X Factor hopefuls. Well, those in drag anyway. She apparently got up and walked off the set yesterday after an audition performed by a guy in drag singing one of her songs.
Spears left the judge's table after staring in apparent shock during the performance, says People, and returned a little while later more composed. She was followed off set by both Demi Lovato (who covered her face during the performance) and L.A. Reid, leaving Simon Cowell to tell the singer "I don't think she really understood your tribute." When she did return, Spears seems to have decided to take the high road. "I really respect the tribute," she said, "It was really nice."
Spears joins a list of famous blondes who have been adopted by the drag community and often used in tribute performances that includes Marilyn Monroe and Madonna – really not bad company to be in. Of course, being in the position of judging a performance like that could be understandably more difficult. As for the X Factor hopeful himself, he tearfully told the judges how hard he had worked to be there, and got a good response from the audience.
Since she joined X Factor Britney Spears seems to have been the subject of a lot of scrutiny and plenty of attempted scandal, including early reports of a clash between herself and Demi Lovato. Certainly there are more than a few people waiting for her to have another public meltdown, but that's what getting the ratings is all about, isn't it?
Your Daily Blend of Entertainment News