Brooklyn Nine-Nine Books Back Nine Order From Fox, Plus A Look At Halloween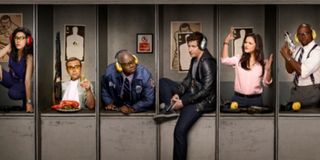 There have already been several shake-ups - both pickups and casualties as well as returning series right there to snatch up barely vacant slots - and thankfully the best comedy of the new batch just booked its back nine. After some deliberation, Fox has not only extended Brooklyn Nine-Nine's sentence to 22 episodes but also given it a shot at following Super Bowl XL VIII as part of a special one-hour comedy event with New Girl despite the exceptional cop comedy getting off to a relatively slow start with everyone but critics.
Or so I've heard. The actual numbers that the series has received are quoted below and they are... numbers. But more on the suspect ratings in a moment and back to the other big development to report with Fox pairing B99 with New Girl for the 'comedy event' airing right after the Super Bowl on Sunday, February 2, 2014. Kevin Reilly, Chairman of Entertainment at Fox Broadcasting, said that "it's exciting to see that both critics and fans love Brooklyn Nine-Nine as much as we do," before adding that having "Andy and Andre out in front of this incredible ensemble, it feels like this show is going to be around for a long time." Well, you can't find a much bigger showcase than following the Super Bowl, so the network is definitely putting their money where their mouth is and showing a lot of faith in the winning sitcom.
And they should. The series' great writing staff (led by Parks and Recreation veterans Schur and Goor) and ensemble cast (not a weak link in the chain) make it look easy. Brooklyn Nine-Nine feels like it has been serving time on Fox for a while and it's only five episodes deep. Television comedies are notorious for needing time to find their stride and audiences are more inclined than ever (thanks to DVR, Netflix, etc.) to wait for it to 'get good.' But that's what they call a 'Catch-22.' Not that it matters in this case because the creators didn't waste any time (like hiring 21 Jump Street and Cloudy with a Chance of Meatballs directors Chris Miller and Phil Lord to shoot the pilot) and starting committing a 187 immediately. You know, killing it.
Alright, no more police puns. It's not my fault, they're worked right into the advertising not to mention a core part of Brooklyn Nine-Nine's comedy. I mean, just watch the preview for next week's Halloween episode titled uh, "Halloween." The fun continues.
Brooklyn Nine-Nine returns with Episode 6, "Halloween," next Tuesday at 8:30 p.m. ET on FOX. Created by Michael Schur and Dan Goor, the comedy stars Andy Samberg, Andre Braugher, Melissa Fumero, Terry Crews, Joe Lo Truglio, Stephanie Beatriz and Chelsea Peretti. Oh yeah, the numbers...
Your Daily Blend of Entertainment News
Thank you for signing up to CinemaBlend. You will receive a verification email shortly.
There was a problem. Please refresh the page and try again.