Burt Reynolds Will Guest Star On FX Animated Comedy Archer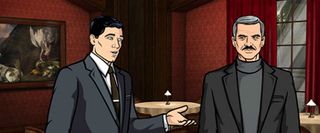 FX as a channel has really come into its own lately by developing some of the best series airing on any network like It's Always Sunny In Philadelphia, Sons of Anarchy and Justified. On top of these increasingly popular live action comedies and dramas, the network also has one of the funniest animated shows going with Archer, a spoof of the spy genre. Archer can give any series a run for their money for the best animated comedy currently on TV, which is why they're able to land some big guest voices like Burt Reynolds.
According to EW (opens in new tab), our favorite international man of mystery, Sterling Archer (voiced by the incomparable H. Jon Benjamin), will get to meet Burt Reynolds in the upcoming third season. Like, actually Burt Reynolds because the man has signed on to provide the voice for himself... yes, Burt Reynolds is voicing Burt Reynolds, who happens to be one of Sterling's all-time idols. However, things aren't quite so ideal when his idol and his mom, Mallory (Jessica Walters), start seeing each other romantically. If you watch the show, you know Reynolds fits in perfectly with the slew of suitors that Mallory has had over the years not to mention that he's also constantly getting mentioned (praised) by the spy himself. In a word, perfect.
I can't wait to watch the inevitable giddy scenes between the spy and the iconic actor before Sterling realizes that Burt's banging Mallory... to put it mildly. On the casting, creator Adam Reed said, "Archer constantly tries to imitate Burt and always raves about Burt's movies and all-around awesomeness. So to have Burt recording voice-overs for the show was just amazing." This wouldn't be the first time Burt's stepped behind the mic for an animated show, having done voices from King of the Hill and American Dad!. Archer returns in early 2012 to FX.
Your Daily Blend of Entertainment News
Your Daily Blend of Entertainment News
Thank you for signing up to CinemaBlend. You will receive a verification email shortly.
There was a problem. Please refresh the page and try again.