CBS Conjuring Up New Bewitched Series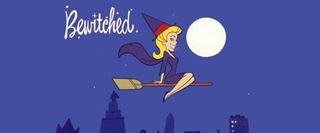 Hollywood's pillaging of the '60s and '70s continues today with the news that CBS is working on a reboot of the sitcom Bewitched. EW's Inside TV blog brings word that CBS is collaborating with Sony to develop a script, and it's still way too early in the project for there to be many details available yet.
The original 1964 series starred Elizabeth Montgomery as suburban house-witch Samantha Stevens and two separate Dicks (York and Sargent, respectively) over the course of the show as her put-upon husband, Darrin. Magical hijinks ensued on a weekly basis, and the show is probably best remembered for Samantha's trademark "nose wiggle" whenever she cast a spell.
Of course, if you weren't born before 1990 and have avoided Nick at Nite for most of your life, you might know the Bewitched name better from the godawful movie version starring Will Ferrell and Nicole Kidman. I wish I could promise you this new series version will be better than that movie, but EW also mentions that a couple of the movie's producers are attached to this new project. Hopefully they learned their lesson. (Then again, Bewitched made $129M worldwide, so maybe the only lesson they learned was, "Crap sells.")
At any rate, if we have to have a new version of Bewitched, this is as good a time for it as any. The supernatural boom on TV shows no signs of stopping anytime soon, and witches seem to be popular right now, what with a coven of them hassling Bill Compton over on True Blood and Kevin Williamson's teen-witch drama The Secret Circle set to hit the CW this Fall.
What say you? Are you interested in seeing a new Bewitched? Sound off over on TV Blend's Facebook page.
Your Daily Blend of Entertainment News