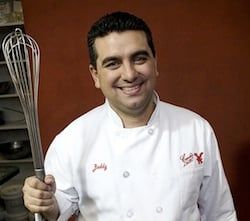 Attention Cake Boss fans and fans of cake in general! It looks like Buddy Valastro's getting the chance to branch out as TLC is set to give Cake Boss a spinoff that could give undiscovered bakers a shot at some cakey, frosty, fondant-y glory!
According to the Hollywood Reporter, TLC is putting together a competition series featuring Cake Boss star and Carlo's Bakery owner Buddy Valastro. The new series will follow 10 cake-making hopefuls as they compete against each other in a series of challenges. The winner will earn an apprentice-gig at Carlo's Bakery, which is the setting for Cake Boss. The Reporter says the series will launch in December for an eight-episode run.
Cake competition shows are nothing new these days but bringing in no-name contestants (as opposed to seasoned cake-architects like the ones we see on The Food Network) could make the competition interesting… or we could be in for eight episodes of watching poorly constructed cake structures topple over. Either way, the show has Buddy, which means it has something going for it from the start. Sure, he tends to yell-talk but he's charismatic and you can't deny that when it comes to cake making, he's one of the best on TV.
Your Daily Blend of Entertainment News
Thank you for signing up to CinemaBlend. You will receive a verification email shortly.
There was a problem. Please refresh the page and try again.