Call The Midwife Holiday Special Coming To PBS This Week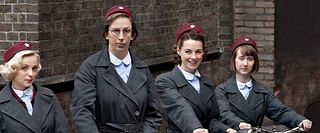 The holiday specials aren't over just yet. Call the Midwife fans, set your DVRs. PBS has announced that they will be airing a holiday special to get us through the week between Christmas and New Year's and provide a lead-in to the upcoming second season.
Call the Midwife Holiday Special will air on Sunday, December 30th at 7:30 p.m. ET on PBS. The special will find the nurses and nuns at Nonnatus House preparing for the holiday season when a newborn left on the doorstep launches them into a search for the mother who gave birth in secret. Nurse Jenny Lee will be charged with the care of an elderly woman who has found herself having lost everything and homeless. But fear not, there's holiday cheer as well in the special, as Chummy organizes a nativity play with the children of Poplar. The special will be an hour and a half long.
The first season of Call the Midwife premiered to a good reception both in the UK and here in the States. It earned record-setting ratings for the BBC overseas, and followed in the footsteps of Downton Abbey to quickly earn a devoted fanbase in the U.S. Based on the memoir written by Jennifer Worth, the series follows the lives of midwives working in tandem with nursing nuns in the 1950s. Call the Midwife will return to PBS for its second season run on March 31st, 2013. In the meantime, fans have the holiday special to hold them.
Your Daily Blend of Entertainment News
Thank you for signing up to CinemaBlend. You will receive a verification email shortly.
There was a problem. Please refresh the page and try again.