Camelot Clip Shows How They Created Their Sword In The Stone Moment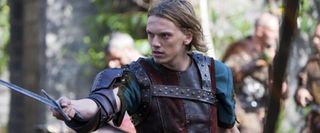 I've said before that Starz's reimagining of the King Arthur legend, Camelot, was a very mixed bag. Joseph Fiennes was an awesome Merlin and Eva Green a delicious Morgan, but I was never sold on Jamie Campbell Bower and his junior-high mustachioed Arthur. Morgan's schemes over the course of the season were appropriately devious, but sometimes the show just felt like it was spinning its wheels. Still, for all my quibbles, Camelot did serve up a few genuinely unforgettable moments, most of them twists on iconic moments from Arthurian legend. Its most brilliant moment involved Merlin's pursuit of a sword and the resulting tragic end of a scared young girl (I won't spoil the details for anyone who might give the show a chance on DVD). A close runner up is yet another moment involving a blade: Arthur's infamous retrieval of the sword in the stone.
It's a moment we've seen on screen or read off the page a thousand times before, so Camelot faced a challenge: how to add its own unique signature to the legendary moment? Their solution involved a spectacular scenery. Rather than simply having the sword jammed into a random rock within easy reach, it's embedded atop a precarious waterfall. Rather than just flexing his upper body strength, Arthur has to scale the slick precipice and wrench the blade free. It's a brilliant visual twist, and it's raised the bar for any future Arthurian adaptations.
It also involved a combination of locations and techniques to pull of properly, as you'll see in this clip. Courtesy of Anchor Bay Entertainment, this video from the upcoming Blu-ray and DVD set goes behind the scenes of Jamie Campbell Bower's perilous ascent. You can see this and more when Camelot: The Complete First Season hits shelves next Tuesday, September 13th.
Your Daily Blend of Entertainment News
Thank you for signing up to CinemaBlend. You will receive a verification email shortly.
There was a problem. Please refresh the page and try again.