Will Captain Jack Harkness' Sexuality Play A Part In Torchwood Miracle Day On Starz?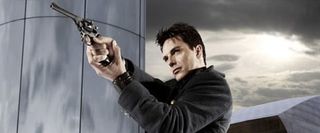 If you're familiar with the sci-fi series Torchwood, then it's likely that you're aware that the lead character, heroic and immortal Captain Jack Harkness is bisexual. Find out whether or not Jack's sexuality will come into play when the series resumes for Torchwood: Miracle Day on Starz and let us know if you think it matters one way or the other.
In all likelihood, fans of Torchwood's emotions range from curious to concerned when it comes to how Starz will handle the series. With Miracle Day set to bring Torchwood to the pay-cable channel for the first time and to the U.S., it's likely that some things will be adjusted to suit the change in location. We've already seen that Jack's iconic wool coat has been traded in for a lighter, more warm-weather-friendly version. A coat is just a coat (diehard fans may disagree with me there) but it's also well known that Jack is bisexual. His interest in men and women has been addressed throughout the course of the series run. Entertainment Weekly spoke to the actor John Barrowman and series showrunner Russell T. Davies about the subject and rest assured, they won't be toning down Jack's bisexuality for the American viewers:
Davies commented on the subject, stating that American TV is currently "way ahead of Britain" in terms of the portrayal of gays and lesbians on television:
Those familiar with Starz' Spartacus: Blood and Sand can attest that the Starz network is open-minded with regards to showing two men going at it, so Torchwood certainly won't be the first series airing on Starz to explore the topic.
Going back to what Davies said, while I agree with him that it's great that shows like Modern Family and Glee feature openly gay characters and story arcs related to sexuality, what sets Torchwood apart in some respects is that while Jack is bisexual, this character trait doesn't define him completely. It's just one part of who he is as a man and it's only really relevant when he's having a romantic moment with someone.
Jack's sexual preference isn't regularly used as a device for comical or dramatic purposes. I certainly don't mean to criticize Glee or Modern Family there. I love Cam and Mitch and appreciate the way the MF writers (and actors) find the humor in their relationship as a loving gay couple. I just think it's worth noting that there's something to be said for allowing a lead character to be something other than straight and not make it the focal point of the story. There's a deeper kind of tolerance there.
So, does it matter that Jack continue to be portrayed as a bisexual man? Yes but only because that's who he's always been on the show. It's great, though unsurprising to hear Starz isn't shying away from the topic.
Torchwood: Miracle Day set to premiere on STARZ on Friday, July 8th at 10pm ET/PT.
Watch the Torchwood: Miracle Day trailer here.
Your Daily Blend of Entertainment News
Thank you for signing up to CinemaBlend. You will receive a verification email shortly.
There was a problem. Please refresh the page and try again.