Celebrity Apprentice Power Rankings: Lou Hulks Up In The Boardroom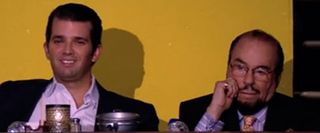 Celebrity Apprentice left New York this week, and as always happens when a show goes on location, things got a little weird. James Lipton showed up to judge in place of Ivanka Trump—a trade-off that is far less pleasing on the eyes—likely due to the fact he has been knighted in France and, thus, owns his own armor. Why would Celebrity Apprentice producers go to the trouble of lugging in Lipton and a heavy hunk of metal? It's all in the name of theme, baby. This week Celebrity Apprentice went Medieval on our asses, popping over to Jersey to the campus of Medieval Times.
For the challenge this week, each team composed and learned a short segment that could work within the arena at Medieval Times. The audience determined the winner of the challenge; so, the theme needed to be able to encompass multiple audiences and age demographics to earn the most votes. Penn Jillette went to task for the men's team and Lisa Lampanelli stepped up for the women. With both of the project managers' past experience in production, they seemed evenly matched at the start. Well, excepting Penn's capacity to swallow fire.
The men put together a family friendly concept that had Dee Snider cross-dressing as a beautiful blonde lady and George Takei calling roll from a podium up high. Lou Ferrigno nabbed a horse and fought Paul Teutul Sr., who showed up on a shiny motorcycle. Arsenio Hall and Penn cracked jokes and led the show. The women also took the comedic approach, but amped up the sexy, throwing Dayana Mendoza into a nude body suit and assigning each of the women roles as "unreal housewives of Camelot." Things seemed to be running smoothly, and then Celebrity Apprentice became the Victoria Gotti show.
Victoria felt left out of the group from the very beginning. There was no room for the 49-year-old in the short costumes and the gymnastics-based routine Lampanelli had put together with the help of Aubrey O'Day, who was surprisingly vocal this week. After being called out in the bottom a week prior, one would think Gotti would have come out with fervor and passion and been willing to accomplish anything to help the team and stay in the game this week. That level of investment was completely missing, leaving Victoria to be a real pain in an already-stressed project manager's arse.
Back in the boardroom, viewers got a brief reprieve from the dynamics of Lisa and Victoria clamping on to one another's throats when dear Donald Trump asked Penn who he would bring back should the men's team lose. After nicely stating he would bring back Lou and George because they had not shown multiple skill sets thus far, Lou freaked out like a bitter bear, yelling at Penn and everyone on the men's team that they had "better not bring his name up again," not once, but multiple times. The event was so explosive it took the limelight away from Dee, who had broken his finger mid-challenge and stayed on to complete this week's task.
In the end, the women lost, due to an unstable work environment, poor communication from Lisa's end, and the men having an overall better concept. Eventually Victoria was kicked off after James Lipton claimed Lisa had "P.A.S.S.I.O.N," but it could have just as easily been Lisa on the chopping block. Too bad it wasn't Lou.
The Celebrity Apprentice Power Rankings are an ordered compilation of weekly lists put together by TV Blend writers Jessica Grabert and Mack Rawden. Each week after viewing the episode, they each rank the competitors in order. Seventeen points are given for a first place vote, and this week, two were given for a last place vote. Two competitors have already been eliminated; therefore, those people automatically occupy the bottom slots. Here is how this week's voting panned out, complete with analysis on how the celebrities might fare moving forward.
The Favorites
#1) Penn Jillette (34): The carnival-like atmosphere of Medieval Times played perfectly to Penn's strengths this week. I'm not sure there will be another task all season so uniquely suited to his abilities. As such, it's not a surprise he was the winning project manager, but I'm still impressed at how effortlessly he delegated responsibilities, encouraged his workers and balanced the team's time. Apart from the hard feelings he caused in the boardroom, which were understandable, Penn's time at the top couldn't have gone more smoothly.
#2) Dee Snider (31): There are two types of injuries on a competition show—the type that require an immediate trip to the hospital and possible withdrawal from the competition, and the type that can be worked through. Many competitors with the latter injuries might use the injury as an excuse to take a day off; however, those who are willing to stick around and work through intense pain are showing a work ethic and an ability to follow through that is only found in winners. This week, Dee broke his finger and continued to do his job and work with the horse that caused his injury. We have yet to see him take on the role of project manager, but if his leadership skills are as good as his work ethic, we expect to see him go far.
#3) Patricia Velasquez (29): Patricia didn't do a whole lot this week, but she did do exactly what was asked. It's hard to fault a woman for not fighting with Lisa for more responsibility, and it's impossible to fault Patricia for the team's loss. She once again handled herself with dignity and just the right amount of aggressiveness in the boardroom. I would listen to arguments concerning who has been the best woman so far, but I don't think any conversation would be complete without bringing in Patricia. With her turn as project manager already out of the way, I can't see her being eliminated anytime soon.
#3) Debbie Gibson (29): Debbie Gibson is an eloquent speaker. In the Celebrity Apprentice competition, she has so far utilized her ability to harness words and rise above the catty infighting of many of the other females. She has also kept her hands busy and been a contributing, creative member of each of the tasks. If Gibson succeeds in making it as far as we think she can, it will be due to her ability to navigate the treacherous waters of biting comments from her teammates. We can't wait to see how creative her first task as project manager is.
#5) Adam Carolla (27): It is a bit unfair that Adam Carolla is ranked this high this week. In fact, due to a prior obligation, he did not even compete in Week 2's challenge. Since a Celebrity Apprentice contestant's full body of work on the show factors into rankings each week, we judged Adam on the skills he has exhibited in the past. Being funny, creative, and loud have worked well on the men's team and Adam has proved his ability to utilize each of these core strengths this season. Still, he has a lot to prove next week when he returns. We're thinking it could be a good opportunity for Adam to nab the project manager position.
The Contenders
#6) Aubrey O'Day (21): Aubrey O'Day has more weaknesses than many of the women. She has shown vanity, exhibited a jealous streak for not being the most attractive woman, and made petty comments about the other contestants. Yet she ranks this high because she has been willing to be vocal, has stepped up as a creative force without being asked, and has interjected herself into a main component of every challenge. She might not be the most self-aware cookie in the box, but she certainly is resourceful, likely due to her experience on an earlier competition show, Making the Band.
#6) Paul Teutul, Sr. (21): In addition to Penn, Paul Sr. is the only contestant who has won money for his charity thus far. He may have been a bit too hard on George during his time at the top, but in the history of Celebrity Apprentice project managers, he's still clearly in the top half. Working hard as always this week, he played his part well in the production. Thus, we know he can be a pretty effective latter and a worthwhile contributor in a more menial capacity.
#8) Teresa Giudice (20): Teresa Giudice has not played out like her Real Housewives self this season, to the point where Trump even pointed out her behavior has been nothing like what audiences have seen from her in the past. Teresa has been calm and quiet, a worker bee who works hard and does what she is asked to do with fervor. We haven't seen her really step up this season, but some women take a little longer to let their inner feline out. If she can stop reigning herself in and prove she can delegate, she will likely stick around for a whole lot longer.
#9) Michael Andretti (19): For all intents and purposes, Michael was a bit of a throwaway last week. Called in as a late substitution, he did his part making sandwiches but didn't have enough time to really put his stamp on the team. That changed with this Medieval Times challenge. He didn't have any acting or microphone work to do, but he handled the lighting and the backstage directions very well. Given the fiasco that happened on the ladies' team, his work was all the more impressive.
#10) Arsenio Hall (17): In many ways, Penn and Arsenio are a great live performance team. Penn's a bit more boisterous, and Arsenio's a bit better with timing. Thus, the duo's crowd interaction had a nice balance to it. In fact, their energy may have been the single biggest factor that pushed the men to victory. More importantly, Arsenio's work also highlighted a facet of his personality that should come in handy. He's more than willing to play first, second or even third fiddle to benefit the team. Penn complimented his willingness to be a team player, and the same should have been obvious to viewers.
#11) Clay Aiken (16): Clay Aiken has been fairly effective thus far this season. He gets plenty of screen time each episode, due to his singing skills and his energetic presence. This week, he jumped around with a tambourine, he sang to get the crowd pumped up during the challenge, and he kept the men's team on track to ensure the lighting and sound guys got the right cues. Clay Aiken knows what he has and how to make use of his own skills. However, he does not always fully understand his teammates personalities or what skills those teammates possess. Expect him to stick around for a while as the helpful dude with some good ideas, but do not be surprised if a run at project manager ends up being a disaster for Aiken.
The Dark Horses
#12) George Takei (11): George Takei is this low for the exact same reason Penn said he'd bring him back to the board room. He's made no mistakes in either of the challenges. In fact, he read his script effortlessly and beautifully during the Medieval Times performance. It's just still unclear where he might fit in for tasks down the road. I'm pretty sure, in another context, George could potentially be a great leader, but this men's team is filled with a lot of loud and boisterous individuals. They may not take direction well from someone quiet and less boisterous. We'll see.
#13) Lou Ferrigno (9): During the task itself, Lou was very good this week. As I expected, he nailed his portion of the assignment and worked very diligently to help the rest of the team. Unfortunately, he completely blew up in the boardroom when Penn said he'd bring him back. On the one hand, I understand Lou's frustration. He did nothing wrong, and if they lost, he clearly wouldn't have been the reason. On the other hand, there's a time and place to defend yourself, and following a hypothetical from Mr. Trump is not that place.
#14) Lisa Lampanelli (8): Poor Lisa. I was convinced she was going to be one of the better players this season, but her management style was a disaster. I'm pretty sure she preemptively decided the other women were going to be uncooperative, and thus, began behaving like a tyrant immediately. She should have let the girls contribute their own ideas after the task was assigned. Instead, she continually cut them off, and in efforts to prevent drama, started her own.
#14) Dayana Mendoza (8): Dayana Mendoza is a woman who is used to being listened to without having to speak loudly or insert herself into a new demographic. One can see this in the way she mishandles being brushed off by many of her other teammates. It has been rather a shame for Dayana, who actually conveyed several great ideas throughout the challenge. Without the ability to command respect from her peers or to take that disrespect with a quiet grace and work hard to turn the tide of opinion, it seems like Dayana will be an easy target for dismissal in the coming weeks.
#16) Tia Carrere (4): Honestly, I have no idea how no one has noticed how weak of a player Tia Carrere has been on the show. Last week, she stuck her foot in her mouth when Trump addressed her and this week her biggest contribution to the challenge was a nipple slip during a sword fight. I'm not saying Tia has no talent lying somewhere within her; however, if she does not show that talent soon, she will absolutely be the next person to go to the board room when the women lose a task.
Here's a look at how the ballots shook out…
Swipe to scroll horizontally
Jessica:
Penn Jillette (17)
Patricia Velasquez (16)
Dee Snider (15)
Debbie Gibson (14)
Adam Carolla (13)
Paul Teutul sr. (12)
Aubrey O'Day (11)
Arsenio Hall (10)
Teresa Giudice (9)
Clay Aiken (8)
Michael Andretti (7)
George Takei (6)

Lisa Lampanelli (4)
Lou Ferrigno (3)
Tia Carrere (2)
Mack:
Penn Jillette (17)
Dee Snider (16)
Debbie Gibson (15)
Adam Carolla (14)
Patricia Velasquez (13)
Michael Andretti (12)
Teresa Giudice (11)
Aubrey O'Day (10)
Paul Teutul Sr (9)
Clay Aiken (8)
Arsenio Hall (7)
Lou Ferrigno (6)
George Takei (5)
Lisa Lampanelli (4)
Dayana Mendoza (3)
Tia Carrere (2)

Row 0 - Cell 2
Your Daily Blend of Entertainment News