Cinemax Renews Scripted Drama Strike Back For Season 3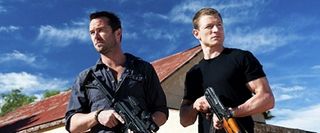 Cinemax's first foray into primetime drama original programming is getting a third season. Strike Back--which premiered its second season in August--has been renewed, and will be joining two other forays into scripted series on the subscription cable network when its 10-episode Season 3 begins airing in 2013.
Once known for soft-core adult entertainment that earned Cinemax the nickname "Skinemax," the network has been working hard to join the ranks of such pay cable channels as HBO and Showtime in the original programming market. Strike Back was the company's first attempt. Season 3 is set to be filmed in Hungary and South Africa, although Deadline is noting the network is keeping quiet on which of the current actors on the show will be back next season. This is, presumably, in the interest of avoiding spoilers for the remaining episodes of the current season. It's also a pretty good hint that someone won't be back, in my estimation.
In addition to Strike Back, Cinemax has Hunted set to premiere in a couple of weeks, as well as Banshee, a show from True Blood's Alan Ball, which is set to air in 2013. Banshee may be the show that puts Cinemax on the map for good, considering Ball's successful history in cable.
Strike Back centers on a duo of counterterrorism operatives who make an unusual pair, one being a British Special Forces agent and the other a U.S. Delta Force veteran. The series airs on Fridays at 10:00 p.m. ET, and will wrap up Season 2 on October 12th.
Your Daily Blend of Entertainment News