Clips From Fox Scifi Movie Virtuality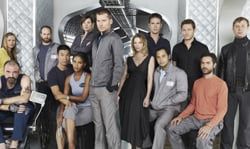 Later this month, Fox will premiere the original movie Virtuality. Written by Michael Taylor and Battlestar Galactica's Ronald D. Moore, this scifi drama follows a crew of astronauts on a ten year mission to save the planet from its impending doom. We've got a series of clips from the film which should give you a better idea of what's going on here.
The premise, in a nutshell, is that the crew of the ship Phaeton is set up with virtual-reality modulators that allow them to live out fake experiences in an effort to pass the time on their decade-long journey. But as they're on their way to their destination, they become aware that someone is tampering with the modulators and could pose a threat to the mission, which is probably earth's last chance for survival.
Photos and more details about the cast and crew can be viewed here.
Virtuality airs Friday, June 26 (8:00-10:00 PM ET/PT) on FOX.