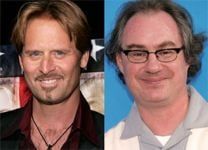 Jeffrey Nordling and John Billingsley don't have to ask for whom the clock ticks. It ticks for them. According to an E! News story, they're the latest to sign on as regulars for Season 7 of 24, joining fellow newbies Janeane Garofalo and Cherry Jones.
Nordling is joining the cast as an FBI agent named Larry. Only time will tell whether he becomes one of Jack Bauer's body-count statistics, but his status as a certified fight choreographer will no doubt come in handy.
Nordling's small-screen credits include Once and Again, Providence, and Melrose Place. Most recently, he co-starred with Courtney Cox in Dirt, an FX drama on which he'll continue in a recurring role.
Bilingsley's 24 character is named Latham, but details have yet to be revealed. The quirky actor has starred in numerous feature films and most recently on the small screen in the now-defunct ABC series, The Nine. He's perhaps best known to Trekkies for his role as Dr. Phlox on Star Trek: Enterprise. In the this-is-ironic category, he starred in the 2003 feature film, Out of Time.
Garofalo will play FBI systems analyst Janie Gold, and Jones is starring as the new U.S. President, with Colm Feore playing her husband.
Watch your back, folks. That's all I have to say.
Shooting for 24 is set to begin Sept. 10. Not a moment too soon, says this addicted fan.
Your Daily Blend of Entertainment News
Thank you for signing up to CinemaBlend. You will receive a verification email shortly.
There was a problem. Please refresh the page and try again.