Comedy Central Buys My Mans Project From Chicago Comedy Trio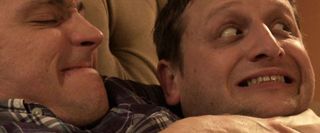 Taking a note from the video that spawned It's Always Sunny in Philadelphia, three Chicago improv'ers created a lengthy demonstration pilot about two friends. The pilot premiered back in 2010, in front of the few lucky people able to attend the New York TV Festival. Apparently the demonstration video was a pretty indelible one because Comedy Central has kept it in its back pocket until recently.
Comedy Central has bought a comedy from Tim Robinson, Mark Raterman and Andy Miara. The three men initially put together the concept for their buddy pilot as part of their My Mans trio. Aptly called My Mans, the project will follow a narrative by weaving in and out of stand-alone sketches, which sounds pretty difficult to pull off, but pretty cool if it can be pulled off. According to Deadline, My Mans will follow Robinson and Raterman as best friends who are constantly getting in and out of trouble.
Even demo pilots need a trailer. You can get an idea of what My Mans will be like if it goes to series, below, or you can catch the full demonstration pilot video over at Vimeo. The whole thing seems a little absurd, but I'm surprisingly interested in seeing where it could go. Comedy Central is too, as they've ordered the men to put together another presentation before giving the thumbs up or down on a series order.
Your Daily Blend of Entertainment News
Thank you for signing up to CinemaBlend. You will receive a verification email shortly.
There was a problem. Please refresh the page and try again.