Comic Con: Ben 10 Prepares To Unleash Alien X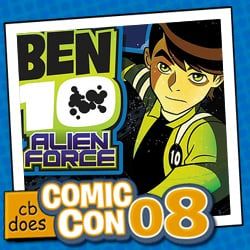 Sometimes you end up in some pretty weird panels at Comic Con just to get to the panels you want to get to. For instance, to ensure I had a place at the panel for Terminator: The Sarah Connor Chronicles, I wound up sitting in on the panel for Ben 10: Alien Force, a cartoon I have a slightly passing knowledge of.
One big piece of news as given at the panel that a pretty big deal was made of. Those who watch the cartoon know it features a kid who has the powers of ten aliens that he can access through an alien device. Up to now, one of those aliens has been shrouded in mystery, unrevealed even in the opening credits. The alien, dubbed "Alien X" hasn't been seen yet, but he will soon.
The announcement was made that on a new episode airing August 31st, Alien X will be seen. The episode will deal with a kidnapping and the return of an old bounty hunter villain, and Ben will have to access the powers of Alien X - a transformation so powerful, Ben will question using it.
So, what's the power of Alien X? When asked, the writers responded that he was the best double-dutch jumper of all time. The kid asking the question saw through that and asked what it really was. The writers still wouldn't fully disclose the information, but finally broke down and gave one hint: it deals with stopping time.
Also in the works for Ben 10's future: a live action movie, set to air on Cartoon Network in the future.
So, Ben 10 fans, tune in August 31st for the first appearance of Alien X, and a live action flick sometime in the future.
Your Daily Blend of Entertainment News