Community Preview: Sophomore Season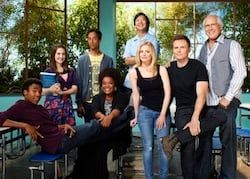 Community returns tomorrow night! Bring on Betty White! (Rhyme not intended). Up ahead, catch a glimpse of the Golden Girl herself as she guest stars in the second season premiere of Community.
School's back in session and that means the return of our favorite set of mismatched study-buddies at Greendale Community. Below is NBC's description for the second season premiere and further down are a couple of clips, one of which features the gang as they convene in the library and the other features Betty White, who is set to guest star as the Anthropology professor.
Community Season 2 premieres Thursday, September 23 on NBC (8-8:30 p.m.ET) on NBC.
CLICK HERE to view the 2010 Fall TV Premiere Schedule.
Your Daily Blend of Entertainment News
Thank you for signing up to CinemaBlend. You will receive a verification email shortly.
There was a problem. Please refresh the page and try again.