Conan O'Brien Sings Radiohead's Creep With Edward Sharpe And The Magnetic Zeros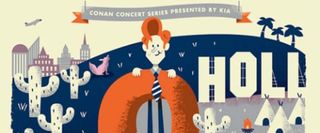 This is just another reason why Conan O'Brien is one of our premiere entertainers. He may not be the funniest comedian, he may not be the best interviewer, he definitely isn't the most gifted musician, BUT he does it all and well enough to keep me thoroughly entertained. I tune in to Conan on TBS to watch CoCo do what he does best, entertain by any means necessarily with his signature off-the-cuff zaniness (yeah, I said zaniness) that no one else could possibly pull off every single night.
I recently also had the pleasure of catching Conan O'Brien Can't Stop, the documentary about his comedy tour that followed the unpleasantness surrounding his departure from The Tonight Show, and if it tells you anything about the man, it's that he lives for us. He lives to perform, and when he's not…well, he's never not, because just as the title suggests, he literally can't stop. It was the day after getting TTS news that the comedy tour idea began forming in his Harvard-educated yet unbelievably silly brain.
So, enough gushing about the man. I think I've made it pretty clear by now that I'm a big fan of his, and after catching this newly released video (the concert actually took place July 18th) he has only affirmed my devotion. After the show was over and as part of his summer concert series (which is being filmed and presumably will end up on DVD), Conan took to the stage with Edward Sharpe and the Magnetic Zeros to do a cover of Radiohead's "Creep." The result...just watch.
Conan airs weeknights at 11 p.m. on TBS.
Your Daily Blend of Entertainment News