Conan O'Brien Still Working With NBC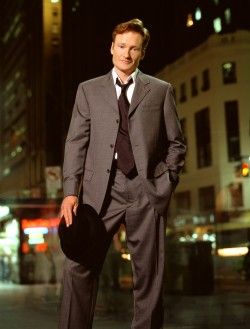 It looks like Conan may continue to leave his mark on NBC after all. His production company, Conaco, has just sold Justice, a legal pilot, to the network. Justice features "a larger-than-life character at the center. It follows an ex-Supreme Court justice who quits the Court to start his own legal practice," according to The Hollywood Reporter.
While O'Brien may have severed ties to his network home for the past 20 years for the cool price of $33 million, his NBC-based production company was contractually obligated to continue operating at NBC Universal until the end of the current development season. That means NBC gets first dibs on anything to come out of it.
So this can basically be read two ways. Either NBC is going to be petty and childish and order pilots from Conaco only to intentionally squash them, or they're still willing to work with O'Brien if he can deliver a hit show. I'd imagine it's the latter as hit shows are getting hard to come by.
Justice joins David E. Kelley's Kindreds and Rex Is Not Your Lawyer in the legal pilots department, though the latter -- which was slated to star Doctor Who's David Tennant -- appears to have been shelved for the time being. It was originally considered for a Spring 2010 pickup, so it could just mean it's backburnered until Fall 2010. We'll just have to wait and see which, if any, of the three make it to series.
Your Daily Blend of Entertainment News
Your Daily Blend of Entertainment News
Thank you for signing up to CinemaBlend. You will receive a verification email shortly.
There was a problem. Please refresh the page and try again.