Conan O'Brien Visits How I Met Your Mother For A Drink At MacLaren's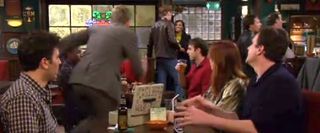 It being President's Day, tonight's episode of Conan is unfortunately, a rerun. But those watching tonight's new episode of How I Met Your Mother ("No Pressure") did glimpse the TBS late night talk show host Conan O'Brien on their TV screens, whether they noticed him or not.
I'll admit, I didn't catch this myself, though I did watch the episode. I was too busy laughing at the continued revelation that Lily and Marshall had a box of unresolved bets about their friends, which Barney came upon when searching for their sex tape. TV Squad caught the cameo and posted the snippet, which includes Barney bolting from the table and running right by a very tall, high-haired redhead whose back is to us for most of his brief scene. Check it out below.
We get to see his face just for a moment, before the attention is brought back to the table, and more important matters. It's quick and random and completely Cocorific. Almost enough to make up for the lack of new Conan tonight!
The random appearance sort of reminds me of last fall when O'Brien visited New York and crashed the Today show. He's sneaky (and hilarious) like that.
Your Daily Blend of Entertainment News
Thank you for signing up to CinemaBlend. You will receive a verification email shortly.
There was a problem. Please refresh the page and try again.