Conan OBrien Tells 60 Minutes He's Not Bitter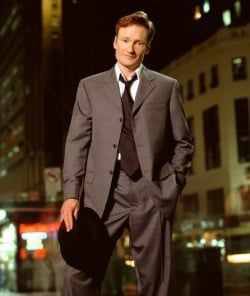 For the first time since leaving The Tonight Show, Conan O'Brien is returning to television. It's not his talk show (yet), but instead an interview for 60 Minutes to air this Sunday at 7 PM ET. He hasn't been allowed to be interviewed for television before now, per the severance contract he signed with the peacock.
It should be interesting to see how the ratings fare for the episode, as it will be a good barometer of where public sentiment is for O'Brien now that he's been off our TV screens for awhile. Leno hasn't been able to rebound to his original numbers before he went and wrecked prime time with The Jay Leno Show, which could be an indicator that Team Coco is standing by their man, even when he's not around to stand by.
A few details have leaked from the interview, including him saying he would have never agreed to take back The Tonight Show, as Leno did, after such a short time. He still has some bitterness about the way the whole thing went down, but he doesn't feel he got screwed, according to USA Today's (opens in new tab) report. "I don't want people thinking, you know, that I got screwed," he said. "Because it just didn't work out."
"I don't regret one decision I made in that week and a half period," O'Brien said at another point. "I wish it had ended differently. But, I'm fine. I do believe, and this might be my Catholic upbringing or Irish magical thinking, but I think things happen for a reason. I really do. And I think that this all happened for a reason." Certainly, O'Brien seems to be riding a wave of unprecedented popularity across the country and straight to TBS come the fall.
From there, we'll just have to wait and see what happens.
Your Daily Blend of Entertainment News
Your Daily Blend of Entertainment News
Thank you for signing up to CinemaBlend. You will receive a verification email shortly.
There was a problem. Please refresh the page and try again.