Conan Will Officially Leave The Tonight Show On Friday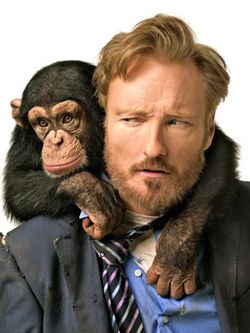 We've been waiting for the announcement for weeks now, ever since TMZ first reported that NBC was going to shake up its late-night line-up. Yep, it's been two weeks. That's more than ten days of late-night bickering, contract rumors, Conan rallies, and Leno bashing. Now it's official. Conan O'Brien will leave The Tonight Show on Friday January 22nd. That's only several days short of the show's eight-month anniversary.
According to the NY Times, Conan will get a fatty $32 million check and will be allowed to return to television in just eight months. The rest of the $45 million deal will handle Conan's large staff and his executive producer, who will get a cool $4 million. It's unclear whether Conan was able to secure his "intellectual" property, which includes characters like the Masturbating Bear and Triumph the Insult Comic Dog. It's also unclear who will replace the Redheaded Wonder until Jay Leno steals the show back in February.
Conan's farewell show on Friday will feature Will Ferrell (Conan's last guest on Late Night and first guest on The Tonight Show), Tom Hanks, and Neil Young. It's likely that it will also feature a few more jabs to NBC's throat via Conan's monologue. It will be nice to see this all end, but I'm sure I'm not alone in hoping that Conan doesn't wait anymore than that required eight months to show his pasty face on television again.
Your Daily Blend of Entertainment News