Could The Next Star Trek TV Series Already Be Mapped Out?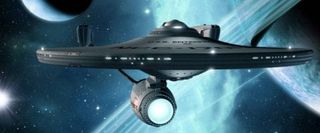 For the first time in my lifetime, the primary association people make with Star Trek is not a TV show, but a movie. J.J. Abrams and his Star Trek reboot/reimagining/whatever have pulled off the once-impossible task of making Trek seem cool again, and six years after the last Trek TV series Star Trek: Enterprise went off the air, it's entirely up to Abrams and Paramount to keep showing us what's happening in the version of outer space explored by the Starship Enterprise. And yet, with so many more people interested in the Star Trek universe, it's only a matter of time before the stories return to TV as well.
If 1947 Entertainment's David Foster has his way, that day may come sooner than later. What Culture has an extensive writeup of what Foster said at a Star Trek Convention in Las Vegas, updating the fans on his long-planned Trek series ideas code named "S.E.T.I." In case you think Foster is just some average over-enthusiastic Trekkie who thinks he's got the next brilliant ideas, take a look at what he said about how detailed his plans are:
The alternate timeline of Abrams's Star Trek means that it's operating on its own canon now, but Foster's idea for a TV show would fit in with everything that's happened on the Trek TV shows that came before it, taking place a time after the events of Star Trek: Voyager. Foster emphasizes he'll be going back to the "roots" of the franchise as Gene Roddenberry imagined it, and had this short teaser for where he wants to go with the series: "If evil wore the face of a hero, would you recognize it? If freedom came in the likeness of your oppressors, would you accept it? If you were your own enemy, who would be victorious?"
At the moment Foster's idea is just a pitch for a network to take a look at, and therefore it's a little early to get excited about a new Trek series being on TV soon. But it seems obvious that the Trek universe will find its way back on to the small screen sooner or later, and with this much planned out, Foster might just wind up being the guy to do it.
Your Daily Blend of Entertainment News
Staff Writer at CinemaBlend