Dan Stevens Reportedly Leaving Downton Abbey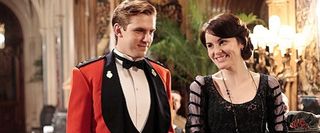 Downton Abbey might be heading into its fourth season without one of its major characters. While rumors have flown regarding the departure of Maggie Smith, it looks like she might actually be beat by another actor who has decided to quit the series. Dan Stevens, who plays Matthew Crawley, may be notably absent after the first episode of the new season.
Only days after news broke that Downton Abbey has been renewed for Season 4, the UK's Sunday Express reports that a "well placed source" on the show says Stevens is planning to leave the show. Word is he'll appear in the two-hour Christmas special as well as in the first episode of the new season--possibly to wrap up his storyline. Considering the character's importance, how that could be pulled off is hard to fathom.
As far as I can tell, neither ITV nor Stevens himself have confirmed the departure, so we can hold onto hope for the moment. I recall rumors regarding his departure before Season 3 as well, which turned out to be false, so it's possible these will turn out the same way. However, it seems that when the same rumor floats around repeatedly, it will eventually turn out to be true. Stevens wouldn't be the only star to jump ship; Jessica Brown Findlay (who played Lady Sybil) has already moved on. Stevens' departure would be a bigger blow to the series, considering his relationship with Lady Mary and his position as heir to the estate have been central to the plot since day one. We'll let you know when this report is either confirmed or denied.
Your Daily Blend of Entertainment News
Thank you for signing up to CinemaBlend. You will receive a verification email shortly.
There was a problem. Please refresh the page and try again.