Dave Navarro To Guest On Sons Of Anarchy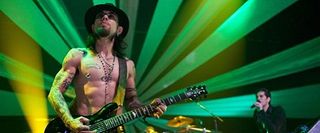 FX's hit Sons of Anarchy has been on a roll this year with the guest stars. Adding to the roster of appearances this year that includes Ashley Tisdale, who went against type to play a hooker, Joel McHale, and Walton Goggins of Justified is the latest – rock star Dave Navarro. Navarro will come on board to appear in two episodes of the fifth season which has been keeping everyone on their toes.
Navarro is set to appear in the final two episodes of the season, according to EW. He'll be playing a gang member who's a member of Biz Lats' gang, and he's got ties to what may have been the show's biggest addition this year, Nero (Jimmy Smits). Navarro has dabbled in a bit of acting, including the Samsung branded series of shorts FCU: Fact Checker Unit. Navarro's appearance on the show will also see him doing a little bit of what he does best. The guitarist who has also played with The Red Hot Chili Peppers will be performing a Rolling Stones song for the closing episode of the season with his band Jane's Addiction. The song will of course be Sympathy for the Devil, which coincidentally has also been covered by Guns N' Roses, a band Navarro reportedly turned down an offer to join many years ago.
It's already been a crazy ride on Season 5 of Sons of Anarchy and it seems like we can expect more surprises in store for us as the season continues.
Your Daily Blend of Entertainment News
Thank you for signing up to CinemaBlend. You will receive a verification email shortly.
There was a problem. Please refresh the page and try again.