David Arquette Joins Portia De Rossi And Malin Akerman In ABC Pilot The Smart One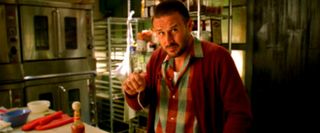 One of the more high profile pilots in development has to be the Ellen Degeneres and Don Todd produced The Smart One. After a pretty intense bidding war, the pilot found a home at NBC only to soon be passed over to ABC where the Portia de Rossi starring sitcom has started building a pretty impressive supporting cast. After bringing Jean Smart and Malin Ackerman into the project, The Smart One has just added the first male piece of the puzzle with David Arquette.
TV Line broke the exclusive announcement that the former Mr. Courteney Cox and Scream star would be making his return to primetime television. Despite all his work on the small screen, whenever I think of Arquette on TV, I always end up thinking about his guest spot on Friends. The actor has done extensive television work with his latest gig voicing Skully on Jake and the Never Land Pirates, however, it will be nice to see the awkward comic actor return to a live action role. I've always been a fan.
The Smart One is a single-camera comedic pilot written by Donald Todd who co-created (and wrote a lot of) the Christina Applegate starring Samantha Who?. The new ABC pilot follows sisters Jude and Candy (played by de Rossi and Akerman, respectively) who couldn't be more different. While Jude was always considered the smart one, her dumb sister Candy has done pretty well for herself, from being a local beauty queen to becoming the mayor of a major city (before you ask how a ditz can become mayor, ask yourself how a ditz can become a Vice Presidential candidate). Now down on her luck, Jude is forced to go work with her bubbly but clueless mayoral sibling. Arquette joins the pilot as Buddy, Candy's husband. Candy and Buddy. Sounds like the perfect couple.
Your Daily Blend of Entertainment News
Thank you for signing up to CinemaBlend. You will receive a verification email shortly.
There was a problem. Please refresh the page and try again.