Davis Back To Trading Spaces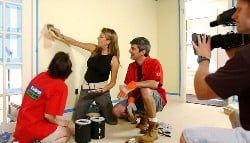 Trading Spaces, my favorite home decorating show/morality play of 2001 is apparently still on the air. What's more, is the show's perennially perky pixie-like host Paige Davis is returning after a nearly three-year absence. The new iteration of Trading Spaces, which transitioned to a host-less format after Davis' departure, will be shot entirely in HD.
Spaces features two sets of neighbors who, with the help of an interior designer, re-do a room in the other team's home on a 2-day $1,000 budget. According to The Hollywood Reporter , Doug Wilson and Hildi Santo-Thomas, who became infamous for disregarding homeowners wishes and tearing down fireplaces or transforming rooms into circus tents or some damn thing, will be among the returning designers. Also returning are familiar faces Laurie Hickson-Smith and Frank Bielec. A few more designers will be brought on to round out the cast, as well as two carpenters.
While Davis tried to parlay the show's success and her name-recognition into a bigger acting career (she had already starred on Broadway before joining Spaces), it was former Trading Spaces carpenter Ty Pennington who became a breakout success as the host of Extreme Makeover: Home Edition on ABC. While Davis may provide the neighbors on the re-vamped Spaces with a shoulder to cry on, its doubtful that that's going to be enough to regain the show's lost popularity. However, the fact that Spaces is now being produced by the people who bring you Hell's Kitchen may be a step in the right direction. A little Gordon Ramsey-like berating ("Stoop crying, it's just a f---ing ceiling fan, you donkey!") may be just what the show needs to become relevant again.
Your Daily Blend of Entertainment News
Your Daily Blend of Entertainment News
Thank you for signing up to CinemaBlend. You will receive a verification email shortly.
There was a problem. Please refresh the page and try again.