Dean Cain To Play Villain On Criminal Minds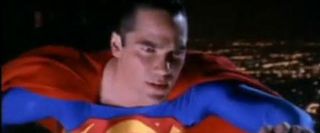 Superman's going villain. Well, not exactly. However, Lois & Clark lead actor Dean Cain is set to play a criminal in an upcoming episode of the hit crime drama Criminal Minds. Maybe it's me, but I don't really like the idea of seeing the Lois & Clark and Las Vegas alum play a truly bad dude. Especially not on Criminal Minds, where the villain's mental profiles can be a especially weird.
Cain is set to play a gambler turned murderer during the seventh season of the CBS show. Showrunner Eric Messer gave the lowdown to THR, describing Cain's character as a dude from the east coast who works with his hands. Unfortunately, the blue collar worker will have some gambling debts to pay off. He'll learn he can pay them by killing other people. Which is too bad, because I'm pretty sure the whole murder thing will ensure no repeat performances on the program. Why can't this be Dexter with a full-season murderous arc?
Usually Criminal Minds isn't a kill-people-to-rob-them-of-their-pocket-money type of program, so we'll see if Cain's character gets a little more thrifty with his murderous instincts and his accumulation of cash. We have a while to wait. Cain isn't set to appear until the 13th episode of the season, which doesn't air until sometime in 2012. In the meantime, Cain has also nabbed a role in the Hallmark Channel Movie The Case For Christmas.
CBS' Criminal Minds airs on Wednesdays at 9 p.m. ET.
Your Daily Blend of Entertainment News
Thank you for signing up to CinemaBlend. You will receive a verification email shortly.
There was a problem. Please refresh the page and try again.