Demetri Martin Animated Pitch Picked Up By Fox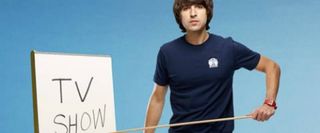 I was particularly excited when I first heard that stand-up comedian Demetri Martin was getting his own television show on Comedy Central, Important Things with Demetri Martin...then I tuned in. Even with the expert advice and tutelage of Jon Stewart (Martin formerly wrote for The Daily Show), the show never really found its voice and therefore floundered towards a second-season cancellation. Now, Martin is coming back.
It was hard for me to understand how what worked so brilliantly in his stand-up routines, especially from his absolutely hilarious special, Person, somehow didn't translate so well into a 30-minute sketch program. Now, he's going to try his hand at animation (well, he's not doing the animating, but you know what I mean).
Deadline (opens in new tab) reports that they are close to "finalizing a deal for a presentation order to an animated comedy project from comedian Demetri Martin, Chernin Entertainment and 20th Century Fox." After hearing the pitch, a "family workplace comedy, set in the California Redwoods," Fox promptly picked it up and went ahead to a pilot presentation. Martin will produce and write for the show as well as voice the lead character.
As the article notes, this isn't the first time that a Chernin Entertainment project went to presentation at Fox, with Jonah Hill's Allen Gregory getting the same treatment and parlaying that into a seven-episode order (oddly enough, Hill replaced Martin in the upcoming Bennett Miller-directed Moneyball).
Details are still relatively unknown since the project is only in its infancy, but what do you think? Do you have interest in watching an animated show with Demetri Martin's comedic sensibilities? I'll probably give it a chance, especially since the Allen Gregory presentation (opens in new tab) was one of the best things I saw at Comic-Con. You can catch it October 30th on Fox, right after The Simpsons Halloween special.
Your Daily Blend of Entertainment News
Thank you for signing up to CinemaBlend. You will receive a verification email shortly.
There was a problem. Please refresh the page and try again.