The Doctor Wears A Cowboy Hat In The Doctor Who Season 6 Trailer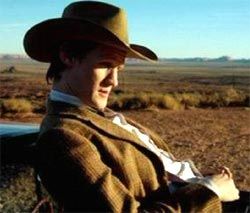 If you watched Doctor Who: A Christmas Carol this past weekend you saw the current Doctor, Matt Smith, at his very best. He's had an entire season to get comfortable in the role and with season 6 on the way we should be in for something very special from The Doctor. At the least, we'll get to see him in a cowboy hat. The Doctor's coming to America.
During Doctor Who: A Christmas Carol the BBC aired a brand new teaser trailer for Season 6 of what is now the only worthwhile science fiction series still airing on television. It's must watch viewing, for pretty much everyone, sci-fi fan or not. If you're already a fan, take a look at what's in store. If you aren't already a fan, hop on Netflix and start watching Season 1 right now. Here's the trailer:
The sixth season of Doctor Who begins airing on the BBC this spring. Be there. Wear a bowtie. Bowties are cool.
Your Daily Blend of Entertainment News
Your Daily Blend of Entertainment News
Thank you for signing up to CinemaBlend. You will receive a verification email shortly.
There was a problem. Please refresh the page and try again.