Doctor Who Finally Signs On A Female Writer, Here Are The Details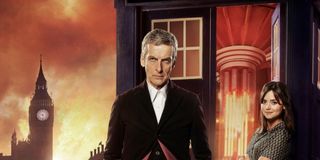 Doctor Who has been on the small screen for over fifty years, and the show's long reign has some pretty awesome women to thank for laying such a strong foundation its enormous success. Verity Lambert was the founding producer of the show, and that distinctive, futuristic sounding theme song is thanks to Delia Derbyshire of the BBC Radiophonic Workshop. Yet, for a show that wouldn't be the show we all love today without the hard work and creativity of some awesome women, it's a bit sad and shocking that there hasn't been a female writer on the Doctor Who since 2008. Luckily, this week Doctor Who announced it will be turning over a new leaf this week, hiring its first female writer in six years.
This week, Cultbox announced that Catherine Tregenna is set to write an episode in Series 9. Tregenna has written for several other shows, including the Whovian-inspired spin-off, Torchwood. The show hasn't made any more announcements of additional female writers, and Tregenna is only officially slated one episode next season. However, we can only hope that hiring Tregenna can only lead to more women in the Whovian writing staff.
The addition of Tregenna is super important. Since the show's reboot in 2005, there has only been one female writer on the show, Helen Raynor—and she only penned a single episode. In fact, in the show's half-century history, there have only been four female writers. Several sources have addressed the show's habit of not adding women to their writing staff, including Neil Gaiman, who has written a few episodes of Doctor Who himself, but until now, it was all talk.
Beyond the staffing issues, the show often gets a bit of criticism for constantly hiring white, male actors. When Matt Smith's Doctor was set to regenerate, some fans expressed a desire to see the first female Doctor. Showrunner Steven Moffat was less than enthusiastic about the idea of a female Doctor, ultimately casting Peter Capaldi (though he was pretty quick to take credit for that big surprise genderswap from the Series 8 finale).
Filming for Series 9 begins in January, after the show's Christmas special airs. Though Capaldi is slated to return to his role as The Doctor, there is no official word (yet) if we'll see any more of Jenna Coleman as Clara Oswald. Coleman is featured on promo posters for the Christmas special, and she was in the preview clip for the special, as well, but whether or not she returns, we hope the show will continue to produce interesting female characters for fans to follow.
Regardless of Coleman's future on the show, it will be incredibly exciting to see what Catherine Tregenna will bring to Doctor Who. Hopefully Tregenna will get the chance to shine for more than one episode. In the meantime, you can catch the Doctor Who holiday special on Christmas Day over at BBC America. If interested, the preview is also available on the next page.
Your Daily Blend of Entertainment News
Thank you for signing up to CinemaBlend. You will receive a verification email shortly.
There was a problem. Please refresh the page and try again.