Doctor Who And Orphan Black Reveal New Characters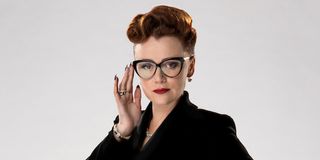 It's been a very busy few days for the folks over at BBC America. The network has made announcements regarding two of its biggest properties in the past 24 hours: a new clone on Orphan Black and a new baddie set to wibble-wobble through time and space on Doctor Who. Our favorite imports are expanding!
First up was the announcement that the Tatiana Maslany-fronted series, Orphan Black would debut a new clone in its upcoming second season. If that sounds weird to you, it shouldn't. The sci-fi series tells the story of Sarah Manning and the discovery that she — along with several other identical women — are actually clones in an illegal experiment. Maslany plays all of the clones (and if you haven't seen it, you're seriously missing out), and will continue to do so with Jennifer Fitzsimmons, a 28-year-old teacher and swim instructor that, like clone Cosima Niehaus, has a very bad respiratory illness.
According to one of the show's co-creators, Graeme Manson, "Jennifer is a bright-eyed Midwestern pure of heart girl." But, as other co-creator John Fawcett explains, Jennifer was naïve, "she didn't know she was a clone, and was being monitored by her boyfriend. She gets sick, and with a kind of the version of the illness that [now-dead clone] Katja had. And of course, a version of the illness that Cosima has. Just that discovery alone is the kind of discovery that shakes Cosima. It really rattles her." Watch the video below to meet the new clone:
Next up on the announcement tip was the announcement that Keeley Hawes, currently starring in the critically acclaimed BBC police drama Line Of Duty, will play a new villain on Doctor Who's upcoming eighth season — the first for Peter Capaldi's Twelfth Doctor. This is after the recent announcement that Samuel Anderson would play a new companion named Danny Pink. Ms. Delphox, a powerful out-of-this-world character with a dark secret. (Ominous enough for you?) The Doctor and his companion, Clara Oswald (Jenna Coleman), come face to face with the mysterious Ms Delphox when they arrive on a strange and puzzling planet. There's not much to go off of besides that. But we do have a photo!
One thing worth getting excited about is the note that her episode was written by Steve Thompson, who just so happens to have written THE BEST episodes of Who showrunner Steven Moffat's other popular series, Sherlock.
Of the role, Hawes said: "I am delighted to join Doctor Who and to be working with this incredible team. Ms. Delphox is a great character and someone I've had a lot of fun playing."
Anyone watching Jed Mercurio's amazing Line Of Duty will know that Keeley Hawes is having one hell of year," stated Moffat. "And now it's about to get even better as she achieves the greatest villainy yet attempted on Doctor Who: she plays a banker."
Orphan Black returns to BBC America on April 19th, while Doctor Who is slated for a late summer/early fall return.
Your Daily Blend of Entertainment News