Dr. Ken Is Getting A Lot More Episodes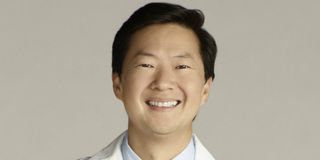 Dr. Ken, starring real life doctor-turned-comedian Ken Jeong, withstood critical and disappointing reviews as the little sitcom engine that could, and proved that Jeong, second tier co-star of such comedic fare as Community and a myriad of Judd Apatow movies, could effectively carry a vehicle as the leading comedic force with 6.7 million viewers for its premiere and consistent viewership ever since. Now, that success her been rewarded as ABC has added nine additional episodes to the series to bring it to a full 22-episode order.
News that ABC has given Dr. Ken a full season order comes from TV Line. The show features Jeong as Dr. Ken Park, a straight-speaking doctor who struggles to balance the rigors of his workplace with his roles as husband and father of two. Dr. Ken, which also stars Martin and My Kids and Me co-star Tisha Campbell-Martin and Newsradio lead and Kids in the Hall member Dave Foley, debuted on October 2nd and has found, and more importantly retained, a significant audience even in the face of ho-hum reviews.
Jeong had until 1997 been a physician after receiving his M.D. in 1995 at the University of North Carolina at Chapel Hill, and he practiced medicine even while performing stand-up comedy at the Hollywood Improv and Laugh Factory. The Detroit-born South Korean comic got his acting start with bit parts and recurring appearances on shows such as MADtv, Two and a Half Men, and The Office before being cast in his first feature film role as Dr. Kuni in Apatow's 2007 romantic comedy Knocked Up<, which also catapulted Seth Rogan to the top of Hollywood's comedy A-list. Following this turn, Jeong's wife convinced him to quit medicine and take the chance on acting.
Since then, Jeong's career has skyrocketed. In 2009, Jeong was cast as Senor Ben Chang on NBC's ensemble Dan Harmon vehicle Community in the same year in which he starred as the villainous Leslie Chow in the smash comedy film The Hangover, which not only showed the comedy chops of Bradley Cooper, but also strapped a rocket to the back of eccentric comedy genius Zach Galifianakis. Jeong was also featured in the film's two sequels. His association with Apatow extended into the auteur's comedy films Stepbrothers, Pineapple Express, and Role Models.
Critics' panning of the show included comparisons to previous ABC sitcom All American Girl which starred Asian-American comedian Margaret Cho in a fish out of water tale about an Americanized Korean girl living at home with her old fashioned and traditional Asian family. But Jeong later announced that he would take more of a controlling hand in Dr. Ken's creative direction. The move appears to be paying off.
Dr. Ken airs Friday nights at 8:30/7:30 central time on ABC.
Your Daily Blend of Entertainment News
Thank you for signing up to CinemaBlend. You will receive a verification email shortly.
There was a problem. Please refresh the page and try again.