E! Enlists A Kid And Superstitious Celebrities For Reality Show Teen Medium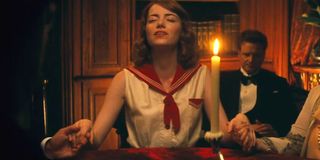 Ever wonder who Hollywood celebrities reach out to when they need spiritual guidance or closure? You know, when someone is seriously in need of a clairvoyant medium, who do they call? It's not necessarily a question often considered. But, apparently for E! it has enough of an interest to base an entire series off of. The network has just given the greenlight to a series with the working title Hollywood Teen Medium, which will take a look into Hollywood celebs go-to medium, a 19-year-old named Tyler Henry.
You may be thinking to yourself, there's no way this is real. Or maybe, you just can't wait to hear more. Either way, this teenager has already made quite the name for himself as a clairvoyant. The ordered eight episode hour-long series will follow Tyler Henry on his own journey balancing his unique abilities while trying to live a normal teenage life. And while peeking into Henry's life, viewers will gain access to deeper, personal information of his celebrity clients. Executive VP of original programming at E!, Jeff Olde told Deadline:
There hasn't been any detail on the specific stars that will be featured in the series. A couple months ago while shooting the pilot for the series, executive producer Michael Corbett tweeted a picture along with Jersey Shore's Snooki. To which Tyler Henry also took to social media:
Henry hails from a small town in California and now lives in Hollywood where he is currently considered one of the top mediums in the city. According to his website bio, the young man was born with this unique gift and has used it to help "countless people acquire closure, comfort, and proof that consciousness transcends physical death." He helps countless individuals through one-on-one readings, lectures, workshops, and group events all around the world. But, now his world is about to grow even bigger as it plastered on the small screen.
Your Daily Blend of Entertainment News