E! Greenlights Love You Mean It With Whitney Cummings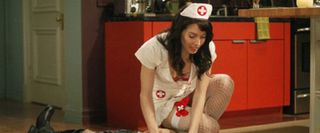 E! was busy all last week, renewing fan favorites like Keeping up with the Kardashians and Chelsea Handler's skit show After Lately. Now the network is taking a break from renewals, instead deciding to spend this week adding brand new fodder to the lineup. E! has plans to add a brand new talk show to the lineup, and the network will steal a cue – or at least borrow an actress – from NBC to do just that.
E! has greenlighted a half-hour talk show, featuring Chelsea Lately veteran and current Whitney actress Whitney Cummings. Titled Love You, Mean It with Whitney Cummings, the show will follow Cummings as she pokes fun at celebrities and does a little improvisation. According to THR, the show is set to air on Wednesdays in the 10:30 timeslot following The Soup, which seems like a wise call, since Joel McHale and Cummings will both essentially be making jokes at the expense of others in their respective programs.
If NBC does as expected and picks up Whitney for a second season, Wednesdays are going to be a big day for the comedian. Since Cummings is known for her specific and fairly blunt style of comedy, it will be interesting to see whether two shows starring the actress and producer will be a bit much for fans and whether one show will take precedence over the other, culturally. I guess we will find out when Love You, Mean It airs for the first time later in 2012.
Your Daily Blend of Entertainment News
Thank you for signing up to CinemaBlend. You will receive a verification email shortly.
There was a problem. Please refresh the page and try again.