E! Is Livin' La Vida Lohan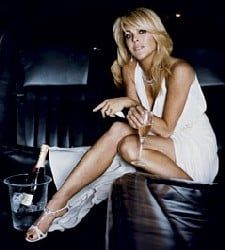 It's long been rumored, but now it has been confirmed: Dina Lohan is getting her own reality show on E!. Living Lohan's ostensible purpose is to go into the Lohan's Long Island home to chronicle Dina's life as a Momager, but will undoubtably serve as video evidence in the inevitable child welfare hearings.
In addition to keeping track of oft-rehabbed daughter Lindsay's schedule, Dina will also be working to jumpstart 14-year-old daughter Ali's singing and acting career. Dina's other two children, 11-year-old Cody and college-student Michael, who you rarely hear about, (presumably because of their limited earning potential) will also be featured in the series. While there is a chance Lindsay may make an appearance, so far there are no plans for the actress to be a part of the show.
Producer Jonathan Murray doesn't seem to believe the reality show will be as big of a trainwreck as it seems, saying that the Lohans are a "very down-to-earth, relatable family…When viewers get to know these people, they will really like them." I don't know, I've seen a lot of this family on television already and while Linday will always hold a special place in my heart for The Parent Trap and Mean Girls, I'm pretty wary of the rest of the family, for two reasons: Despite being vastly different ages, Lindsay, Ali and Dina all look like they're in they're mid- forties, and Dina once called herself "The White Oprah." As far as Living Lohan is concerned, the only question that remains is whether it will be more or less terrifying than E!'s other alliteratively-titled show, Keeping Up with the Kardashians.
Your Daily Blend of Entertainment News
Your Daily Blend of Entertainment News
Thank you for signing up to CinemaBlend. You will receive a verification email shortly.
There was a problem. Please refresh the page and try again.