Elementary Star Jonny Lee Miller Asked For Benedict Cumberbatch's Blessing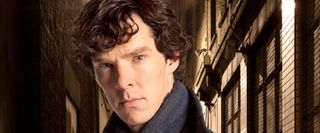 CBS raised quite a few eyebrows when the word got out that they had greenlighted a modern series take on Sir Arthur Conan Doyle's iconic Sherlock Holmes. See, CBS' Elementary was announced as Steven Moffat's British series, Sherlock -- a modern series take on Sir Arthur Conan Doyle's iconic Sherlock Holmes – was earning praise and fans on both sides of the pond. Coincidence? In a new interview, Sherlock star Benedict Cumberbatch has revealed that actor Jonny Lee Miller asked for his blessing for taking the lead role in Elementary.
Speaking to Shortlist, Cumberbatch says that he tracked down a copy of the Elementary script after Miller had told him about the show. "I think there's room for us both to coexist," says Cumberbatch. "I don't feel threatened by it and I wish him the best, which is as diplomatic as I can be."
We can't blame Cumberbatch for damning Elementary with faint praise, but the guy definitely earns classiness for being diplomatic about the whole thing. Still, he can't entirely disguise his dubiousness about CBS's coattail-riding Sherlock series. He continues:
Cumberbatch is expected to return for another series of Sherlock, with co-creator Mark Gatiss recently dropping some hints via Twitter. In the meantime, Cumberbatch is busy being a big damn movie star by playing the as-yet-unidentified villain in J.J. Abrams' second Star Trek film.
As for Elementary, it's set to premiere September 27th on CBS, starring Miller as Sherlock Holmes and Lucy Liu as a female version of Watson.
Your Daily Blend of Entertainment News
Thank you for signing up to CinemaBlend. You will receive a verification email shortly.
There was a problem. Please refresh the page and try again.