Elizabeth Berkley Goes To Miami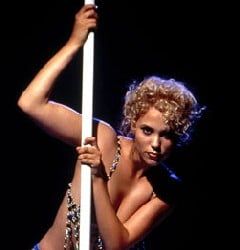 Have you ever had a ham sandwich and said to yourself, "man, if I only had a little cheese, this would be amazing?" The producers of CSI: Miami apparently have, because they've found just the actress to complement their ham-tastic star, David Caruso. Elizabeth Berkley is coming to Miami.
According to The Hollywood Reporter, Berkley will be playing Julia Winston, "Horatio Caine's former wife and the mother of his recently discovered teenage son, Kyle (Evan Ellingson), who becomes part of an investigation when her billionaire husband is murdered." You know what that means: lots of Caruso/Berkley showdowns. He'll accuse her of murder, she'll deny it, he'll accuse her of being a bad mother, she'll accuse him of being too involved in his work to be a father; it will be…amazing.
Berkley, of course, is best known as Jesse Spano, the feminist who was so excited, but so scared after developing an addiction to caffeine pills in a very special episode of the 80s sitcom, Saved By the Bell. While she taught a generation of young girls that taking pills in order to practice a dance routine was a bad idea, it was her turn as dancer-but-not-a-stripper Nomi in Showgirls that made her infamous. Oddly enough, the Hollywood Reporter article doesn't mention either of these tour-de-force roles, instead saying she was in an episode of the original CSI and Any Given Sunday. Yawn.
There's no telling when we'll be able to see the Berkley episodes of CSI: Miami, but in the meantime, you can try to find her last TV venture, a movie called Black Widow. With a title like that, you know you're in for a good time.
Your Daily Blend of Entertainment News
Your Daily Blend of Entertainment News
Thank you for signing up to CinemaBlend. You will receive a verification email shortly.
There was a problem. Please refresh the page and try again.