Elizabeth Shue Will Replace Marg Helgenberger ON CBS' CSI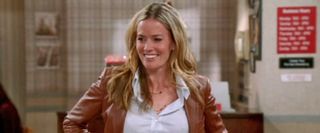 If there is one thing that is beyond comprehension, it's how a procedural like CSI can not only run for as long as it has but also spawn two successful spin-offs. Sure, when the series first debuted there was something new(ish) and intriguing that made watching a few seasons reasonable. Then it became the poster child for the increasingly boring and repetitive procedural (three nights a week). It is also on its third lead investigator in Ted Danson. Well, there's clearly no plan for slowing down considering CBS just secured a big name actress to replace yet another lead character.
It's been known for some time that Marg Helgenberger's Catherine Willows is handing in her permanent crime scene investigating badge for a recurring one, meaning they need another female to fill those heels. Therefore, in another 'lets recast the leads instead of just cancelling a dying show' move, Deadline reports that the still popular CBS procedural is bringing in Elizabeth Shue as her replacement. That is a pretty big get for the dwindling series, even though she hasn't exactly been in a lot lately she's still an Academy Award nominated actress.
The article mentions how the network is keeping quite mum on the specifics of the role but Shue will star opposite Ted Danson as an investigator fresh out of anger management who may or may not have worked with and been fired by Danson's D.B. Russell. Shue will make her first appearance on the show February 15, 2012 (almost a full month after Helgenberger hangs up her spurs). As far as Elizabeth Shue goes, I'm not thrilled about her choice to join a show that's overstayed it's welcome (obviously, a minority opinion) but I will love her forever for three reasons: her recent appearance on Curb Your Enthusiasm, Adventures in Babysitting and of course, The Karate Kid. Seriously, as a young boy I wished she was my babysitter. At least now she can solve my inevitable murder. I have several mortal enemies.
CSI's Season 12 airs on Wednesdays at 10 p.m. ET on CBS.
Your Daily Blend of Entertainment News
Thank you for signing up to CinemaBlend. You will receive a verification email shortly.
There was a problem. Please refresh the page and try again.