Ender's Game TV Spinoff Is In Consideration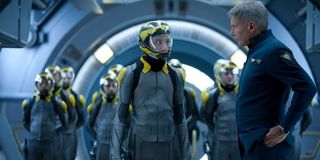 Earning just over $27 million at the box office for its opening weekend, Ender's Game is performing about as well as can be expected, but unlike other feature adaptations of popular young adult novels, this one may not be franchise-bound. And that's not entirely surprising. Orson Scott Card's followup to Ender's Game is set far in the future, with the lead character having aged to his mid-thirties by the time the story picks up. While the future of the franchise on the big screen appears unset right now, there's talk of a possible TV spinoff.
Ender's Game is set in the future when humanity is anticipating the next war against an alien race called the Formics. To prepare for the war, the International Fleet is recruiting the most gifted children on earth to train at a space-set Battle School. The story's lead is Ender Wiggin, a particularly intelligent and compassionate child, who may just be mankind's salvation. The movie did a pretty great job of adapting the book. It had to be condensed a bit, but the film stayed true to the heart of the story and the lead character. I thought the ending felt a bit rushed but over all, we got about as good of an adaptation as we might have hoped.
In terms of potential big screen sequels to the movie, it isn't that Speaker for the Dead couldn't be adapted to film, or that an original screenplay couldn't be written to continue Ender's story as an adolescent. It seems like both would be possibilities, but nothing has been decided. At this point, Variety reports that the future of a sequel to Ender's Game remains in limbo, and that Lionsgate CEO Jon Feltheimer says the studio is planning to wait another week or two before they decide whether or not they'll make another movie based on any of Card's other Ender-related novels.
Beyond that, there's talk of a TV spinoff, which could have its benefits. Variety says Felheimer says a TV spinoff is "under consideration." The site doesn't elaborate on that, so it could very well be just one of numerous talking points, but it's an interesting option, especially if they're considering expanding the Battle School aspect of the story, regardless of whether or not that includes Ender Wiggin. And there's no reason it has to, really. Card's "Shadow" saga, for example, follows Ender's ally Bean, a character whose surface is barely scratched by the feature adaptation of Ender's Game (the film). The same could be said for the novel, really. Bean plays a more prominent role in the book than he does in the movie, but as we learn in Ender's Shadow — the novel that includes events from Ender's Game as told from Bean's perspective — there's a lot more to Bean than meets the eye. So a TV series focused on that character could be great.
But as I said, there are no details about the TV series other than that it's under consideration. We don't even know if it would be set in Battle School, though that seems like the logical guess. If there's one thing I would've loved to have seen more of in the film, it was the zero gravity Battle Room scenes. Of course, a TV series may have some budgetary constraints when it comes to those kinds of stunts and special effects, but again, we're thinking a bit far ahead. We'll have to wait and see if there are any updates to this news in the coming weeks.
Assistant Managing Editor
Kelly joined CinemaBlend as a freelance TV news writer in 2006 and went on to serve as the site's TV Editor before moving over to other roles on the site. At present, she's an Assistant Managing Editor who spends much of her time brainstorming and editing feature content on the site.
Your Daily Blend of Entertainment News
Thank you for signing up to CinemaBlend. You will receive a verification email shortly.
There was a problem. Please refresh the page and try again.